Currently, the seats for aircraft incorporate energy absorber means for protecting passengers sitting on such seats in the event of a crash. These energy absorber means reduce the forces exerted on the lumbar vertebrae of a passenger in the event of a crash.
Further, some civilian and military standards specify a weight population range for which a crash should be survivable, e.g. a range extending from a passenger weighing 46.5 kilograms (kg) to a passenger weighing 96 kg. This range can make it difficult to determine the dimensions of the energy absorber means.
The seat patented by Airbus is suitable for providing an antivibration function and an anti-crash function without leading to force peaks on the lumbar vertebrae or at least while generating a force peak on the lumbar vertebrae that is well controlled, the seat also being optimized in terms of its own compactness and weight.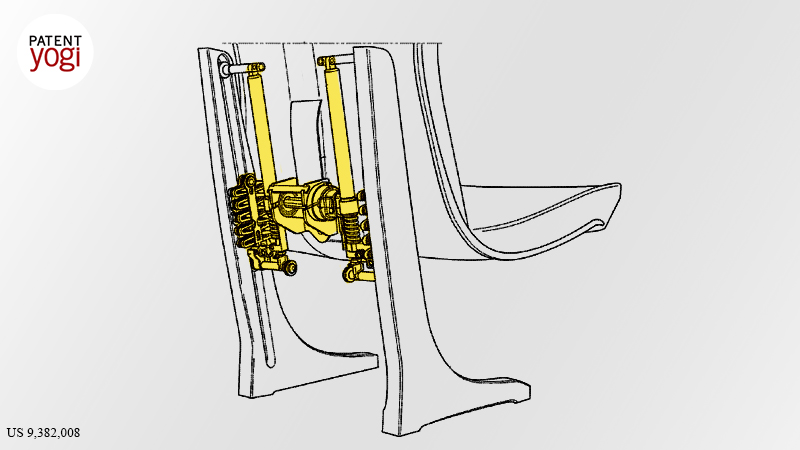 The seat comprises a bucket and a frame fastened to a floor for carrying the bucket, the bucket optionally being provided with a seat proper and a seatback for receiving a passenger, the seat including at least one energy absorber system. The seat is remarkable in that each energy absorber system is provided with multiple energy absorbers arranged in parallel, each energy absorber having a first end secured to the frame. The energy absorbers comprise an elongate member extending in elevation from a first end held stationary against the frame to a second end that is movable in the event of a crash.
The seat includes a simple mechanical device enabling the energy absorber system to be matched to the weight supported by the seat, and making use of an index that selects the required number of energy absorbers automatically and mechanically.
Prior to a crash, the inhibitor system blocks the spring member. This step may take place when the passenger sits on the seat or else prior to the aircraft impacting on the ground. At the moment of a crash, the bucket moves downwards in translation. Since the spring member is inhibited, the suspension system moves together with the bucket and the index. The index then stresses the energy absorber system by pulling on the absorbers that have previously been selected by the index.
Patent Information
Publication number: US 9,382,008
Patent Title: Anti-crash seat and an aircraft
Publication date: Jul 5, 2016
Filing date: Jun 9, 2014
Inventors: Florent Fornecker;
Original Assignee: Airbus Helicopters