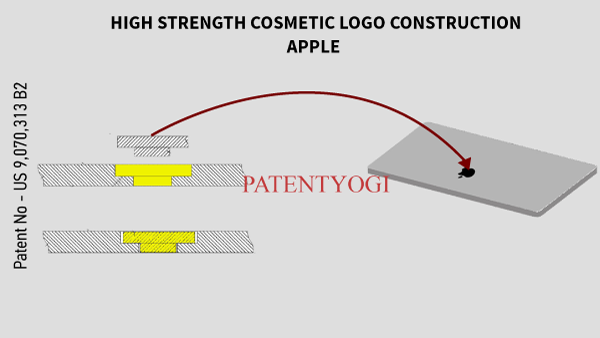 Patent Number : 9,070,313 B2
Patent Title : High strength cosmetic logo construction
Inventors: Trzaskos; Piotr S. (Saratoga, CA), Franklin; Jeremy C. (San Francisco, CA)
Assignee: Apple Inc. (Cupertino, CA)
Family ID: 1000001187265
Appl. No.: 13/244,111
Filed: September 23, 2011
Abstract: A cosmetic logo insert is adapted for fitting into an opening in the housing of an associated computing device, is formed from a single piece of metal, has a thickness less than about 0.8 mm, and provides by itself adequate shock impact and fire enclosure protection at the opening for internal device components. The insert can include a lower portion having a first circumferential shape in the form of a logo and an outer surface that is substantially flat and polished to a mirrored finish, and also an upper portion integrally formed with the lower portion and having a second circumferential shape that is larger than the first circumferential shape. A computing device can include an outer housing having a wall with a stepped and logo shaped opening, a processor located within the housing, and a cosmetic housing insert fitted into the wall opening.