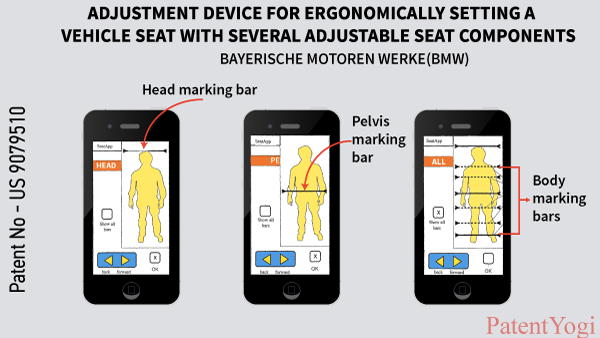 Patent No – US 9,079,510
Patent Title: Adjustment device for ergonomically setting a vehicle seat with several adjustable seat components
Inventors: BHuber; Andreas (Munich, DE)
Assignee: Bayerische Motoren Werke Aktiengesellschaft (Munich, DE)
ETH ZURICH (EIDGENOESSISCHE TECHNISCHE HOCHSCHULE ZURICH) (Zurich, CH)
Family ID: 1000001211352
Appl. No.: 13/646,134
Filed: October 5, 2012
Abstract: An adjustment device has a control unit with a memory, in which vehicle occupant data is storable. The data enable an automatic setting of all adjustable seat components and/or vehicle components. A read-in unit allows the necessary vehicle occupant data to be read into the memory of the control unit from a mobile data medium. The data medium obtains the necessary vehicle occupant data as a defined two dimensional image from a digital image acquisition system. The control unit or the data medium has an algorithm that determines proportions of given body parts in relation to each other from the two dimensional image such that a certain, at least relative, automatic setting of the seat components and/or the vehicle components is derivable. An input unit, which is manually operable as a touch screen, sets defined body part positions using marks superposed in succession on the image.