✓ In Brief
Boeing  has invented a fire suppression system for mobile devices of passengers. The suppression system automatically secrets suppressants in the interior and the exterior of the mobile devices in case of fire.
Boeing is a company that has been at the forefront of aviation innovation. They are forever striving towards and making air travel safer and enjoyable for the passengers and their crew. They have filed another patent along the same lines.
Boeing, in late 2014, patented a high-tech fire suppression system to air transport Li-Ion batteries. Now, they have improved that technology by creating fire detection and suppression packs for devices that work on Li-Ion batteries while they are in use.
After the Samsung Galaxy Note 7 began malfunctioning and exploding, airlines worldwide banned bringing the mobile device onboard in the check-in, and overhead luggage compartments. Although no other devices have indicated to be dangerous in this manner, Li-Ion batteries were identified as dangerous goods. This technology patented by Boeing goes a long way in increasing the flight safety.
Boeing has filed a patent for a device that is "full-time fire suppression system that is on hot standby at all times, independent of the computing device's power mode" and "has a weight and volume consistent with and does not impair the use of the portable personal computing device". The device is intended to be used as a case like dock that will make use of temperature sensors when the device is off, and may also use information from the device BIOS when it is ON.
The system makes use of two suppression systems that are now obsolete. Each system had a single pressurized suppressant cartridge and associated flow control valves and plumbing. Now, both cartridges (that will be used in a single system) may contain either one gas (either Halon 1301 or CO2), or the use of a mixed gas suppressant methodology. One cartridge may contain CO2 to enhance cool-down effects and the other cartridge may contain Halon 1301 to provide chemical flame extinguishing. The mixed gas suppression methodology allows greater fire suppression than either gas alone.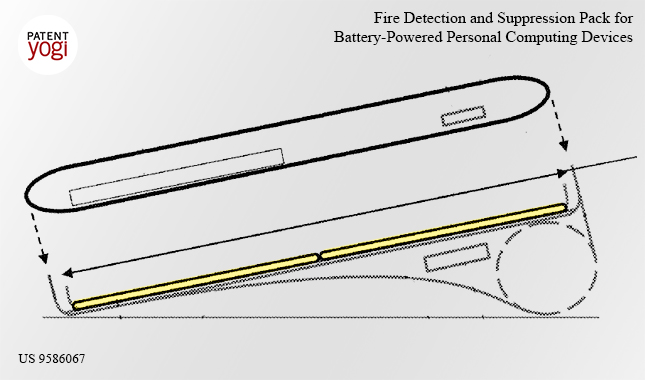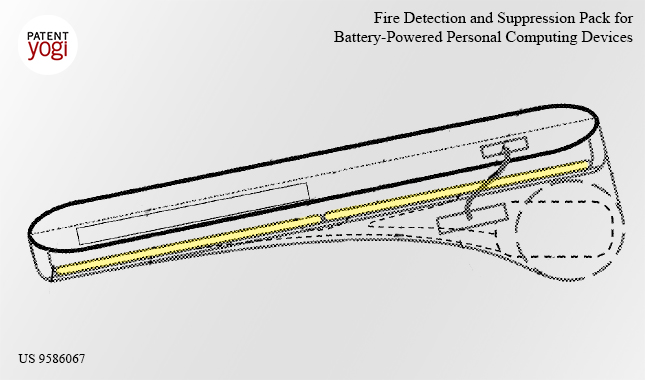 Further, the disclosed technology also allows for "some of the released suppressant" to "flood into the interior volume of the battery-powered personal computing device to cool down hot elements, deplete oxygen content, provide chemical flame extinguishing of an existing flame and inhibit re-ignition." This can be accomplished by "using existing cooling flow porting in the latter as well as suppressant flow through a USB bridge assembly interface which directs additional flooding suppressant flow into the interior volume of the personal computing device."
What this means is that apart from secreting suppressants on the exterior of the devices, the invention also allows for the suppressants to be released in the interior of the devices to cool them down and suppress fire condition inside the devices.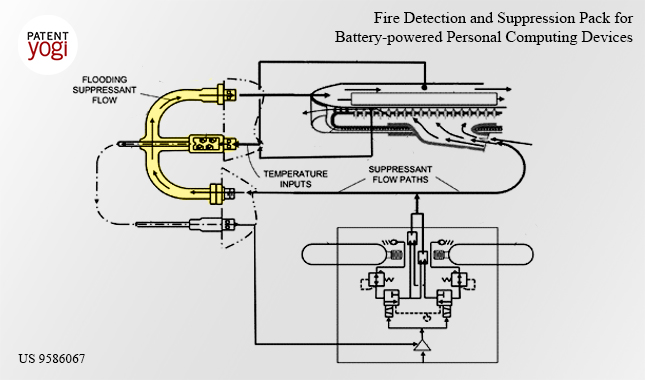 It is innovations like these that make Boeing a world leader in the aviation industry. And as the disclosed technology becomes mainstream, air transport may become a lot safer.
Patent Information
Publication number: US9586067 B1
Patent Title: Fire detection and suppression pack for battery-powered personal computing device
Publication date: 7 Mar 2017
Filing date: 19 Aug 2015
Priority date: 19 Aug 2015
Inventors: David W. Kirkbride
Original Assignee: The Boeing Company