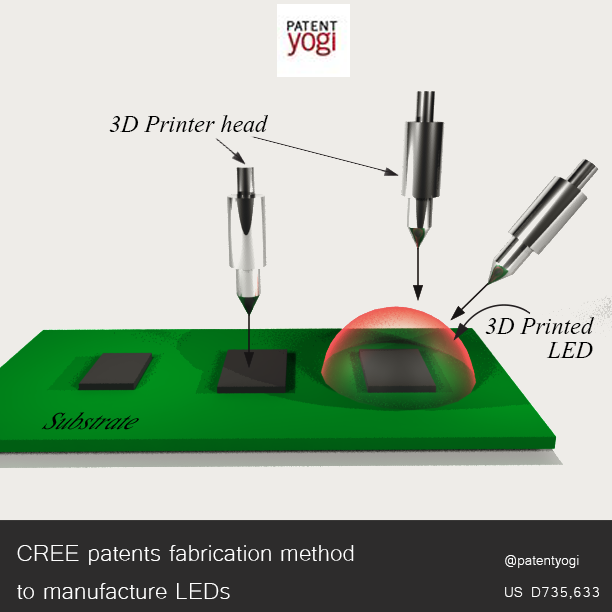 Patent Title: Solid state lighting devices and fabrication methods including deposited light-affecting elements
Patent Number: 9,099,575
Inventors: Medendorp, Jr.; Nicholas W. (Raleigh, NC), Wilcox; Kurt S. (Libertyville, IL), Kinnune; Brian (Racine, WI)
Assignee: CREE, INC. (Durham, NC)
Family ID: 52342859
Appl. No.: 13/943,043
Filed: July 16, 2013
Abstract: Solid state light emitting devices include one or more light affecting elements (e.g., of one or more light-transmissive, light-absorptive, light-reflective, and/or lumiphoric materials) formed on, over, or around at least one solid state light emitter, with the light affecting elements including multiple fused elements embodying plurality of dots, rods, or layers such as may be formed by three-dimensional (3D) printing. At least one electrically conductive path in electrical communication with a solid state light emitter may be formed by selective material deposition such as 3D printing. Light affecting elements may be individually tailored to individual solid state light emitters, such as to yield different optical distributions for interactions between each specific emitter and its corresponding light affecting element.