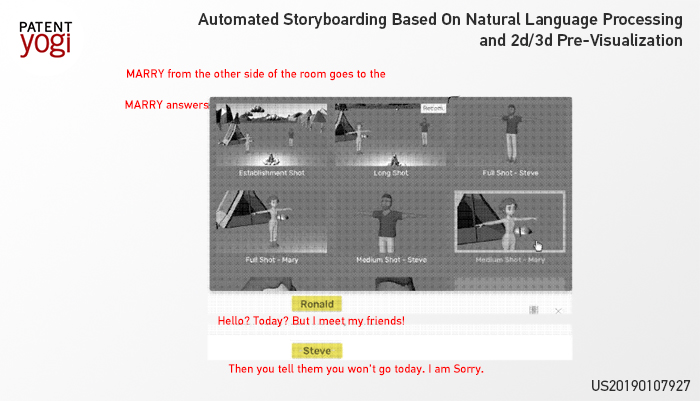 Walt Disney was known to use storyboarding to quickly show and share progress on the walls of his studio. Storyboarding is an important initial step in the creative process of film making. Currently, storyboarding is mostly done using specialized software requiring manual inputs. All this may soon change. In a recently published patent, Disney describes an automated storyboarding system that is set to transform the entire process.
You upload text scripts into the system, which will be displayed in an editing panel. Then, the system will analyze and parse the script using Natural Language Processing. For example, character names, locations, actions, and dialogs are extracted from the script, which also indicate emotional states, positions, and relationships of the characters.
Based on the script, a 2D, or a 3D visualization is automatically generated showing scene elements, including characters, props, and cameras in the scene. You can run a scene, and see visualizations representing the scene.
The system will then generate a storyboard (comprised of multiple frames) based on the visualizations. The visualizations and the storyboard will also be updated in real time based on any updates made in the script. What's even more exciting is that the system will, based on the frames of the storyboard, recommend a camera shot (like a 'long-shot', or a 'medium shot') for each scene, as shown in the figure above. You can also choose your own preference from a list.
The invention looks set to revamp and revolutionize the entire storyboarding process.
Patent Information
Publication Number: US20190107927A1
Patent Title: Automated Storyboarding Based On Natural Language Processing and 2d/3d Pre-Visualization
Publication date: 2019-04-11
Filing date: 2018-10-09
Inventors: Sasha Anna Schriber; Rushit Sanghrajka; Wojciech Witon; Isabel Simo; Mubbasir Kapadia; Markus Gross; Daniel Inversini; Max Grosse; Eleftheria Tsipidi
Assignee: Disney Enterprises, Inc.