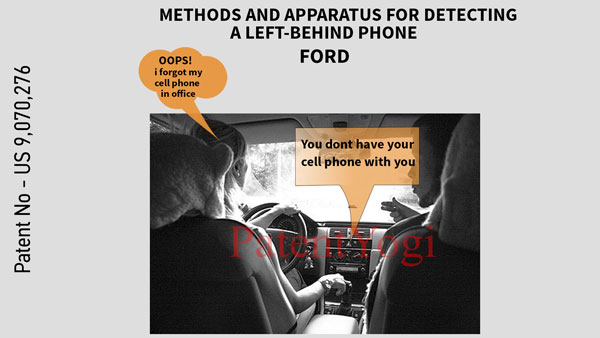 Patent NO: 9,070,276
Patent Tittle: Method and apparatus for detecting a left-behind phone
Inventors: Le; Jialiang (Canton, MI), Rao; Manoharprasad K. (Novi, MI), Prakah-Asante; Kwaku O. (Commerce Township, MI)
Assignee: Ford Global Technologies, LLC (Dearborn, MI)
Family ID: 1000001187232
Appl. No.: 13/540,983
Filed: July 3, 2012
Abstract: A system includes a vehicle computing processor. The processor is configured to, through wireless communication with a phone, and after determining that a vehicle engine is not running, request and receive motion sensor data from the phone. The processor is further configured to determine if a phone is moving with a driver based on the motion sensor data. Also, the processor is configured to alert the driver if the phone is not moving with the driver.