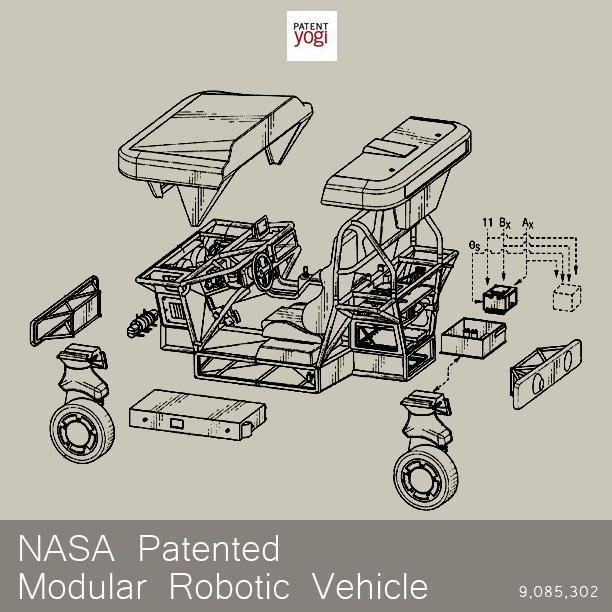 Patent Number: 9,085,302
Patent Title: Modular robotic vehicle
Inventors: Borroni-Bird; Christopher E. (Oakland Township, MI), Vitale; Robert L. (Macomb Township, MI), Lee; Chunhao J. (Troy, MI), Ambrose; Robert O. (Houston, TX), Bluethmann; William J. (Houston, TX), Junkin; Lucien Q. (Houston, TX), Lutz; Jonathan J. (League City, TX), Guo; Raymond (Seabrook, TX), Lapp; Anthony Joseph (Houston, TX), Ridley; Justin S. (Houston, TX)
Assignee: The United States of America as represented by the Administrator of the National Aeronautics and Space Administration (Washington, DC)
Family ID: 1000001225383
Appl. No.: 14/032,473
Filed: September 20, 2013
Abstract: A modular robotic vehicle includes a chassis, driver input devices, an energy storage system (ESS), a power electronics module (PEM), modular electronic assemblies (eModules) connected to the ESS via the PEM, one or more master controllers, and various embedded controllers. Each eModule includes a drive wheel containing a propulsion-braking module, and a housing containing propulsion and braking control assemblies with respective embedded propulsion and brake controllers, and a mounting bracket covering a steering control assembly with embedded steering controllers. The master controller, which is in communication with each eModule and with the driver input devices, communicates with and independently controls each eModule, by-wire, via the embedded controllers to establish a desired operating mode. Modes may include a two-wheel, four-wheel, diamond, and omni-directional steering modes as well as a park mode. A bumper may enable docking with another vehicle, with shared control over the eModules of the vehicles.