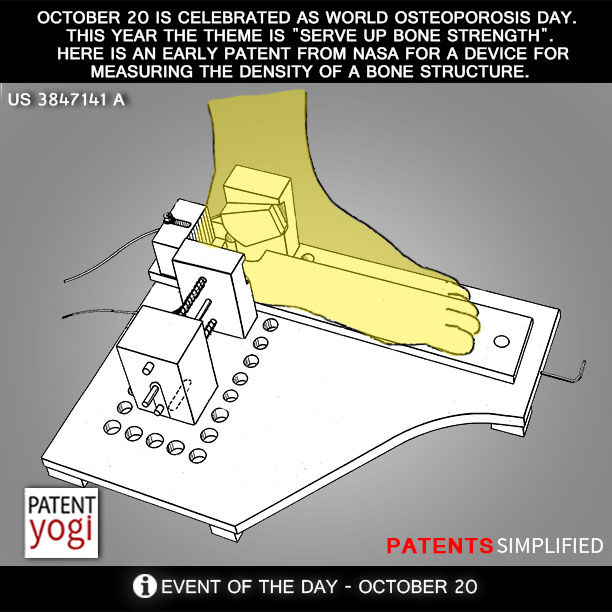 October 20 is celebrated as World Osteoporosis Day. This year the theme is "Serve Up Bone Strength". Here is an early patent from NASA for a device for measuring the density of a bone structure.
Patent Information
Patent Number: US3847141 A
Patent Title: Ultrasonic bone densitometer
Publication type: Grant
Publication date: 12 Nov 1974
Filing date: 8 Aug 1973
Priority date: 8 Aug 1973
Inventors: Hoop J
Original Assignee: NASA
ABSTRACT: A device for measuring the density of a bone structure so as to monitor the calcium content thereof. A pair of opposed spaced ultrasonic transducers are held within a clamping apparatus closely adjacent the bone being analyzed. These ultrasonic transducers incude piezoelectric crystals shaped to direct signals through the bone encompassed in the heel and finger of the subject being tested. A pulse generator is coupled to one of the transducers and generates an electric pulse for causing the transducers to generate an ultrasonic sound wave which is directed through the bone structure to the other transducer. An electric circuit, including an amplifier and a bandpass filter couples the signals from the receiver transducer back to the pulse generator for retriggering the pulse generator at a frequency proportional to the duration that the ultrasonic wave takes to travel through the bone structure being examined. An oscilloscope and frequency counter is coupled to the bandpass filter for determining the frequency that the pulse generator is retriggered so as to determine changes in the calcium content of the bone being analyzed.