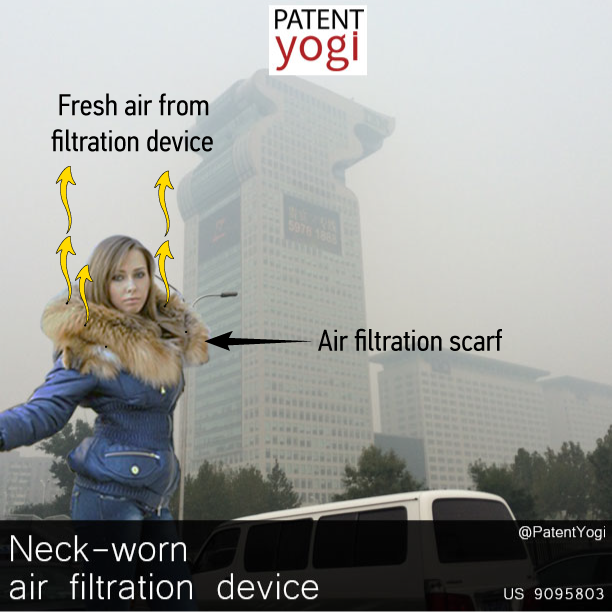 Patent No: US 9,095803
Patent Title: Neck-worn air filtration device
Inventors: Augustine; Scott D. (Bloomington, MN), Albrecht; Mark C. (Minneapolis, MN), Arnold; Randall C. (Minnetonka, MN), Augustine; Ryan S. (Minneapolis, MN), Barrows; Ryan (Maple Grove, MN), McGregor; Andrew (Minnetonka, MN)
Assignee: Augustine Biomedical and Design, LLC (Eden Prairie, MN)
Family ID: 1000001251037
Appl. No.: 13/158,861
Filed: June 13, 2011
Abstract: A neck-worn personal air filtration device for providing a zone of filtered air around or near a user's breathing zone is described. The device comprises a blower, a hose, and a neck-worn plenum including a filter. Air blown from the blower, passes through the hose and into the plenum exiting the plenum. The air is filtered by a filter for breathing by the user.
Media sources – Smog in Beijing by bfishadow – https://www.flickr.com/photos/bfishadow/15491218181/, Licensed under CC BY 2.0 – https://creativecommons.org/licenses/by/2.0/