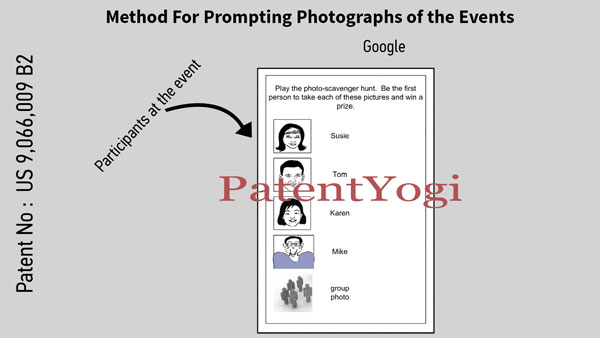 According to some example embodiments, various participants in an event, such as a party, meeting, gathering, or the like may take photographs of the event, including the other participants of the event, the surroundings or location of the event, and the like. Such photographs may memorialize or document the event. Often photographs taken at an event may be shared with other participants of the event, as well as friends or acquaintances who may not have attended the event. Because photographs taken during an event may provide a record of the event and/or may be shared with people who were not at the event, it may be desirable to obtain a rich array of photographs for the event to capture the greatest sense of the event. In some embodiments, systems and methods may be provided to encourage participants in the event to capture a well rounded and diverse collection of photographs of the event.
Patent Number: 9,066,009
Patent Title: Method for prompting photographs of events
Inventors: Cohen; Dave (Mountain View, CA), St. Clair; Timothy Sepkoski (San Francisco, CA)
Assignee: Google Inc. (Mountain View, CA)
Family ID: 1000001174363
Appl. No.: 13/721,688
Filed: December 20, 2012
Abstract
A computer-implemented method, computer program product, and computing system is provided for interacting with images having similar content. In an embodiment, a method may include identifying one or more event attributes associated with an ongoing event. The method may also include determining one or more statistical characteristics associated with the one or more of the event attributes. The method may further include generating a prompt to an event participant to take a photograph during the ongoing event based on, at least in part, the one or more statistical characteristics.