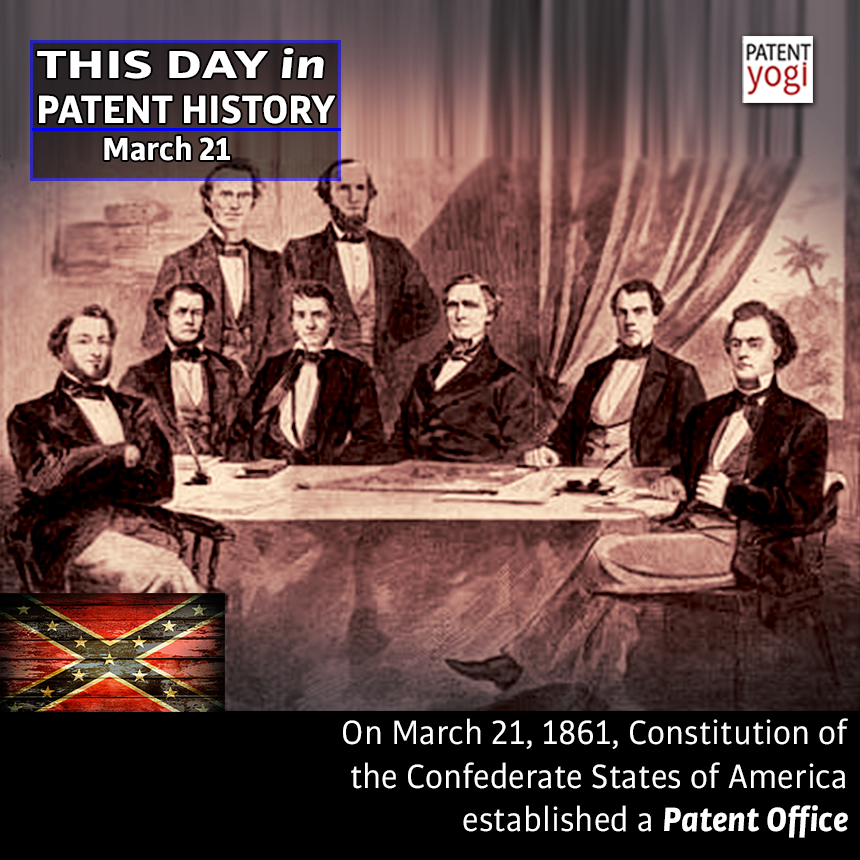 On March 21, 1861, Constitution of the Confederate States of America established a Patent Office.
The Confederate Patent Office was the agency of the Confederate States of America charged with issuing patents on inventions. The Chief Clerk during its entire existence was Rufus R. Rhodes of Mississippi who resigned his post at the United States Patent Office after the election of Abraham Lincoln.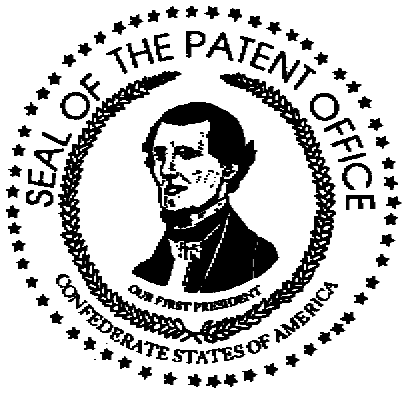 The Confederate Patent Office is known to have issued 266 patents. Most of the records of Confederate Patent Office were destroyed in a fire and fewer than 10 are known to survive.
The first patent was issued to James H. Van Houten of Savannah, Georgia on August 1, 1861 for a "breech-loading gun".
"CHAP. LVII.–An Act to amend an act entitled "An act to establish a Patent Office, and to provide for the granting and issue of patents for new and useful discoveries, inventions, improvements and designs," approved May 21, 1861.
August 30, 1861.
Act of 1861, May 21, ch. 46, amended.
Assistant examiners of patents may be appointed.
Salary.
The Congress of the Confederate States of America do enact, That the commissioner of patents, with the approval of the Attorney General, shall have power to appoint, in addition to the examiners of patents, provided by the second section of the above recited act, such assistant examiners at a salary of fifteen hundred dollars per annum, as may be required to transact the current business of the patent office with dispatch.
Messenger for patent office.
His salary.
SEC. 2. And be it further enacted, That the commissioner, with like approval, may appoint a messenger for said office, at a salary of three hundred and sixty dollars per annum.
Pre-payment of postage by applicants for patents, and others.
SEC. 3. And be it further enacted, That the commissioner be, and he is hereby, authorized to require applicants for patents, and all other persons with whom he is obliged to correspond or to whom drawings and other papers have to be returned for alteration or correction, to deposit a sufficient sum of money to pay the postage: Provided, That in no single case shall the deposit so required exceed two dollars.
APPROVED August 30, 1861."
Source: Wikipedia