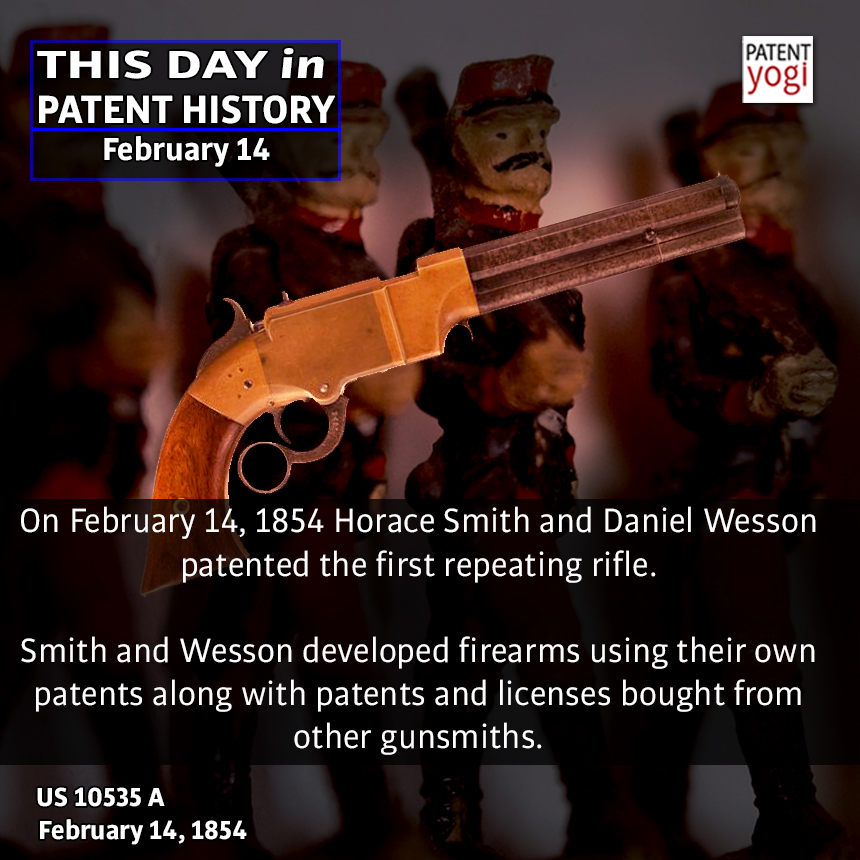 On February 14, 1854 Horace Smith and Daniel Wesson patented the first repeating rifle. A repeating rifle is a single barreled rifle containing multiple rounds of ammunition. These rounds are loaded from a magazine by means of a manual or automatic mechanism, and the action that reloads the rifle also typically recocks the firing action.
Smith was an American gunsmith, inventor, and businessman. He and his business partner Daniel B. Wesson formed two companies manufacturing firearms. They developed firearms using their own patents along with patents and licenses bought from other gunsmiths.
Smith also developed a new Volcanic Cartridge, which he patented in 1854. The Volcanic cartridge adds a primer to the cap of a Rocket Ball, making the ammunition completely self-contained. Smith and Wesson formed the Volcanic Repeating Arms Company in 1855 develope and manufacture volcanic catridge. Volcanic made an improved version of the Rocket Ball ammunition, and a carbine and pistol version of the lever action gun to fire it. While the Volcanic Repeating Arms Company was short lived, its descendants, Smith & Wesson and Winchester Repeating Arms Company, became major firearms manufacturers.
Smith is also credited with the invention of the explosive bullet used to kill whales.
Patent Information
Publication number: US10535 A
Patent Title: Improvement in fire-arms
Publication type: Grant
Publication date: Feb 14, 1854
Inventors: H. Smith