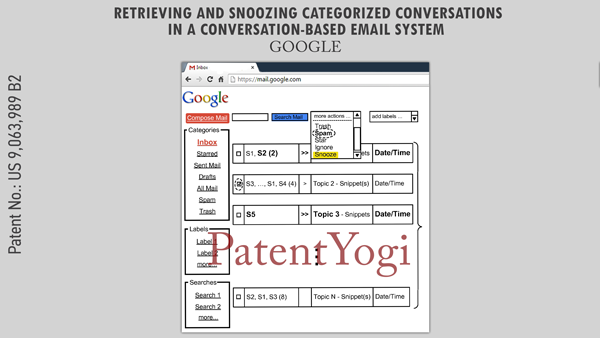 Information overload is a common complaint of most professionals. Every day, people send and receive millions of email (also written as "e-mail") messages over computer networks for business and leisure.

One simple way to handle emails is to "snooze" some emails so that they the user is able to ignore them temporarily by setting a triggering condition, which can be time-driven, e.g., a conversation should disappear from the "Inbox" category for a period of time (e.g., one hour, one day, one week, and so on) and then come back automatically, or event-driven, e.g., a conversation should not come back to the "Inbox" category until the number of unchecked messages has reached a predetermined limit, or a particular person has contributed a message to the conversation, a message is received that specifies the user as a primary recipient, or a received message contains a specified word or phrase.

Some plugins helped Gmail users snooze their emails. But it seems Google will build this feature directly into Gmail.
Patent Number : 9,063,989
Patent Title : Retrieving and snoozing categorized conversations in a conversation-based email system
Inventors: Buchheit; Paul T. (Mountain View, CA), Baptist; Lauren M. (Mountain View, CA), Chang; Bay-Wei W. (Foster City, CA), Golub; Seth J. (Sunnyvale, CA), Lim; Jing Yee (Santa Clara, CA), Singh; Sanjeev (South San Francisco, CA), Tuck, III; Russell R. (San Jose, CA)
Assignee: Google Inc. (Mountain View, CA)
Family ID: 1000001172542
Appl. No.: 13/900,457
Filed: May 22, 2013
Abstract
A method and system for processing messages includes receiving a plurality of messages directed to a user. Each of the plurality of messages is associated with a respective conversation and list of conversations is displayed in an order determined in accordance with second predefined criteria, as a set of rows, where each row corresponds to one of the listed conversations and includes at least a sender list, a conversation topic and a date/time value. A user is enabled to identify one or more conversations in the list of conversations, to mark the identified conversations as belonging to a particular category, and to display another list of conversations comprising conversations marked as belonging to the particular category. A user may cause a conversation to be removed from certain displays, but to become visible again after the passage of a certain amount of time or the occurrence of an event.