Although smartphones are an essential utility now, they can be a source of frustration as well. With numerous different User Interfaces and ever-increasing updates to the operating systems, it can become frustrating to navigate through the host of features and settings in smartphones. For example, how often is it that we are not able to locate a setting that we seem to have used just a couple of days ago? Google has come up with a solution.
In a recently published patent application, Google has disclosed a method for "determining user frustration and assisting the user in response". The smartphone receives signals from sensors including accelerometer, compass, GPS, touchscreen, and even the microphone and camera. Based on the received signals, the smartphone will determine whether a user is having difficulty navigating the smartphone and performing a task. For instance, putting pressure on the smartphone screen above a predetermined value, vigorous shaking of the smartphone (as determined from the accelerometer), frustrated voice intonations or speech patterns (as recorded using a microphone), frequent exploration of menu options, and frustrated facial expressions (recorded from the front-facing camera may all be indicative of user frustration.
Further, the smartphone may determine a confidence score representing a probability of whether or not the user is unable to perform a task. If the confidence score satisfies a particular pre-determined value, the smartphone may then determine a source of frustration, using a state of an open application, display of the mobile device, speech of the user, or a combination of any two or more of these to determine the source of the user's frustration.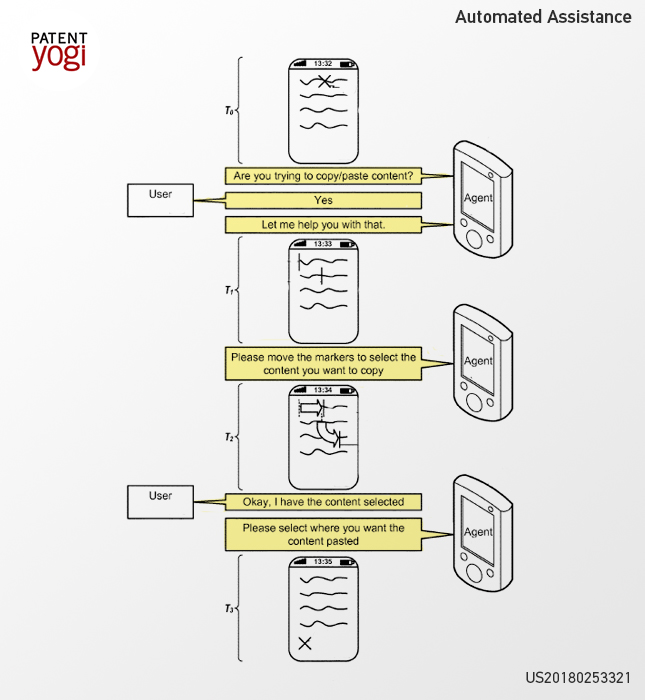 Thereupon, the smartphone may ask the user (through visual, or auditory means) if the user is in need of assistance in performing the task, and may provide needed assistance. For instance, the smartphone may remember recently changed settings and may ask the user if the user wishes to change some recently changed settings.
Patent Information
Publication Number: US20180253321A1
Patent Title: Automated assistance
Publication date: 2018-09-06
Filing date: 2014-07-31
Inventors: Johnny Chen, Thomas L. Dean, Sudeep Gandhe, Gabriel Schine, Qiangfeng Peter Lau
Original Assignee: Google LLC
US20180253321A1