NASA has patented a rover that looks and moves like the jelly monster Blobby from Hotel Transylvania.
The rover is essentially a bladder filled with a fluid containing shape memory polymers. The bladder is covered with an outer layer that bladder from dirt or debris of the surface or surrounding atmosphere. Fingers or bumps are also provided over the outer surface to enable the rover to grip the surface and facilitate movement.
By selectively energizing the shape memory polymers at a designated part of the bladder to alter its shape or size causing motion of the designated part. Another technique used by the rover to achieve locomotion is by directing motion of the fluid within different parts of the bladder. A valve assembly draws fluid from a compartment and discharges it into a designated compartment to displace the designated compartment with respect to the surface. The bladder may also include elongated flexible tubes filled with ferro-fluid and a moveable electromagnet. By energizing and de-energizing the electromagnet, the flexible tube can be lengthened/shortened in the direction of motion. This causes the rover to move along the surface like a worm.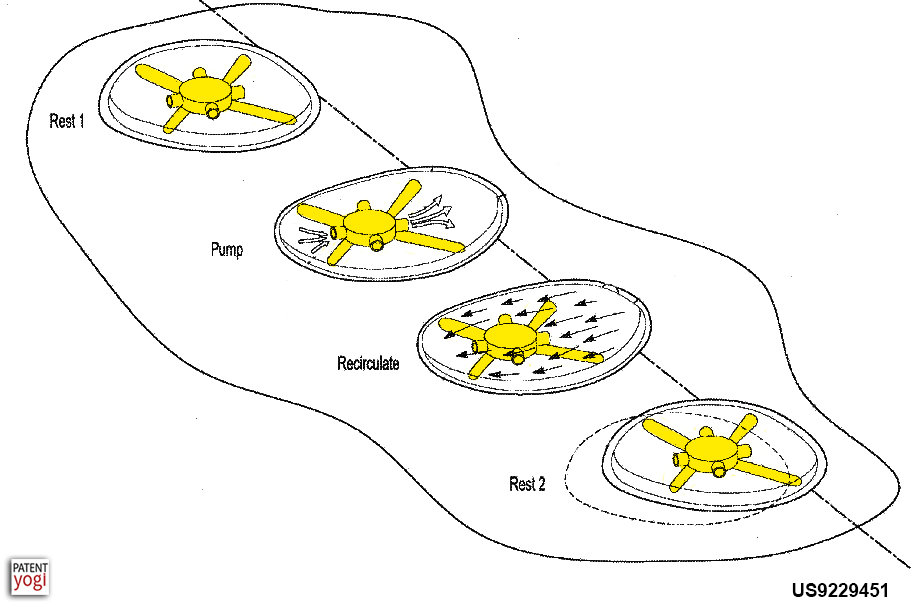 Patent Information
Publication number: US 9229451
Patent Title: Locomotion of amorphous surface robots
Application number: US 14/189,019
Publication date: 05 Jan 2016
Filing date: 25 Feb 2014
Inventors: Arthur T. Bradley
Original Assignee: U.S.A. as represented by the Administrator of the National Aeronautics and Space Administration