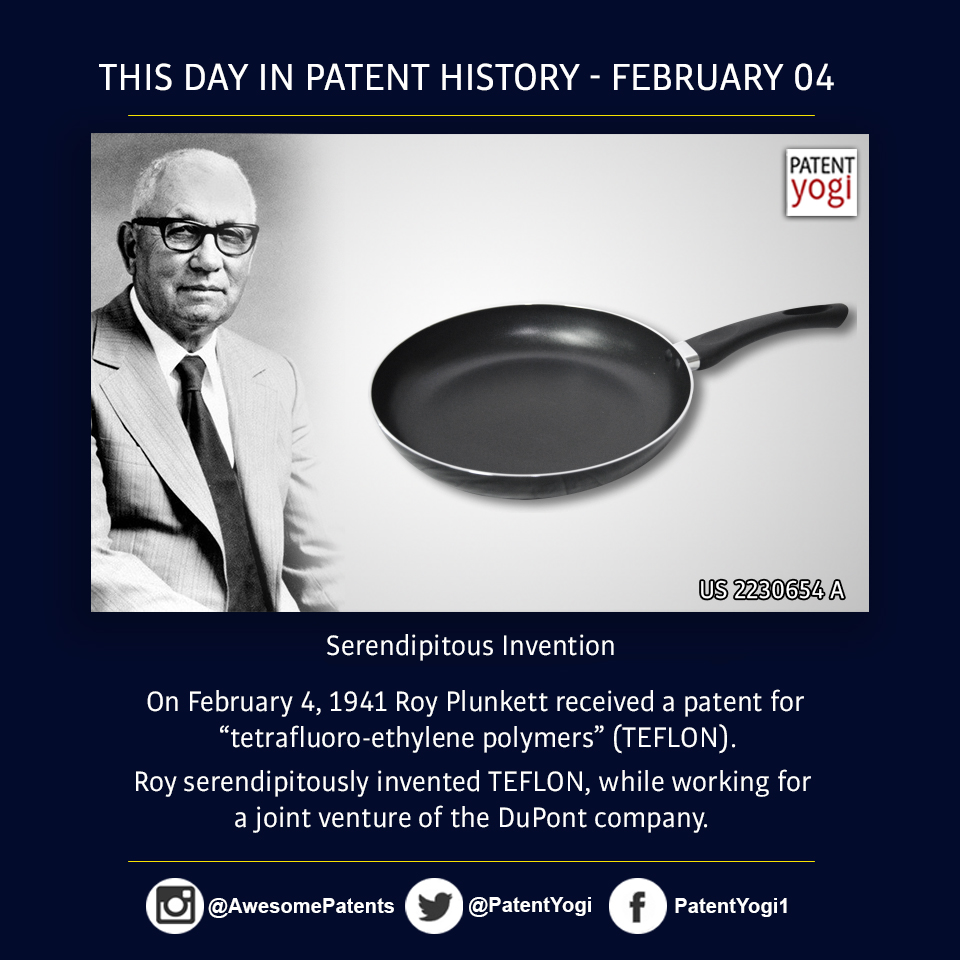 Serendipitous Invention – TEFLON
On February 4, 1941 Roy Plunkett received a patent for "tetrafluoro-ethylene polymers" (TEFLON). Roy serendipitously invented TEFLON, while working for a joint venture of the DuPont company.
The discovery of Teflon is best described in Plunkett's own words:
"On the morning of April 6, 1938, Jack Rebok, my assistant, selected one of the TFE cylinders that we had been using the previous day and set up the apparatus ready to go. When he opened the valve — to let the TFE gas flow under its own pressure from the cylinder — nothing happened. Jack called me over and asked whether we had used all the TFE from that cylinder. I said, I don't think so. We both tinkered with the valve a bit, and then thinking it might be stuck or closed in some way, we disconnected the cylinder from the line and pushed a wire through the valve opening. Still no TFE came out, although the weight of the cylinder showed that there was material inside. We were in a quandary. I couldn't think of anything else to do under the circumstances, so we unscrewed the valve from the cylinder. By this time it was pretty clear that there wasn't any gas left. I carefully tipped the cylinder upside down, and out came a whitish powder down onto the lab bench. We scraped around some with the wire inside the cylinder — or maybe I tapped it — I don't remember which — to get some more of the powder. What I got out that way certainly didn't, add up, so I knew there must be more, inside. Finally, more out of curiosity I suppose than anything else, we decided to cut open the cylinder. When we did, we found more of the powder packed onto the bottom and lower sides of the cylinder."
Plunkett further relates that the cylinders of TFE being used contained about 1 kg each (2.2 pounds) which would be relatively small, lecture bottle sized cylinders, not large cylinders.
The tetrafluoroethylene in the container had polymerized into polytetrafluoroethylene, a waxy solid with amazing properties such as resistance to corrosion, low surface friction, and high heat resistance. Plunkett related the story of this accidental discovery at the spring meeting of the American Chemical Society national meeting in the History of Chemistry section, April 1986 in New York City which was published in the Symposium Proceedings.
Roy was inducted into the National Inventors Hall of Fame in 1985 for the invention of TEFLON. The invention quickly gained popularity and was widely used.
The unique non-stick feature of TEFLON found another use. It became a nickname given to persons, particularly in politics, to whom criticism does not seem to stick.
Here are some examples (Wikipedia):
Ronald Reagan, the President of the United States, was called by his detractors "the Teflon president." The nickname was coined by Patricia Schroeder, a Congresswoman, and reflected on how a plethora of scandals surrounding his presidency seemed to have no effect on his individual popularity with the public.
Bill Clinton and Hillary Clinton due to their ability to survive various controversies, including an impeachment procedure.
"Teflon Don" was applied to mafia boss John Gotti, who managed to escape being charged or convicted of crimes for over a decade, despite being the very public leader of a New York crime family.
Former British Prime Minister Tony Blair was often referred to in the press as "Teflon Tony." However, this does not refers to any accusation of corruption but rather the inability of opposition to launch effective political attack during his premiership.
Ralph Klein, long-time Premier of the Canadian province of Alberta, was referred to as a "Teflon" premier. Prime Minister Stephen Harper was also given the label when the Wright-Duffy affair broke out.
Teflon Taoiseach became a label for Irish Taoiseach Bertie Ahern as scandal after scandal failed to have any lasting effect on him, until he was forced to resign in 2008.
John Howard, Prime Minister of Australia, was called "Teflon Johnny". Other Australian public figures that have been called "teflon coated" include Premier of Queensland, Sir Joh Bjelke-Petersen, and Prime Minister Paul Keating.
Vladimir Putin, President of Russia, has been referred to as a "Teflon leader," although the 2008 Russian financial crisis had some effect on his image among the public.
Fernando Alonso, a Spanish driver in Formula One racing and double World Champion, earned the nickname "Teflonso" following his exoneration from involvement in the Renault F1 Crashgate controversy. He was also involved in Spygate in 2007, where emails revealed he discussed McLaren's use of confidential Ferrari information.
TV bloggers appropriated the nickname "Teflon Tim" for American Idol contestant Tim Urban, who appeared on the show's ninth season and repeatedly survived elimination votes despite receiving stinging criticism from the judges.
In leaked US diplomatic cables it was revealed that the Chancellor of Germany was called "Angela Teflon Merkel" by the staff of the American embassy in Berlin because criticism bounced off her.
French journalist Franz-Olivier Giesbert once compared President François Hollande to a "Teflon pan" following an interview given on TV programme Des paroles et des actes.
Prime Minister of New Zealand John Key was labelled "Teflon John" and the "Teflon Man" by political pundits for his perceived ability to come out unscathed from political controversies.
Sepp Blatter the incumbent president of FIFA was given the nickname Teflon Sepp following repeated allegations of corruption within FIFA that led to the arrest of a number of FIFA officials whilst he was president, yet he refused to step down as FIFA president.
Source: Wikipedia (https://en.wikipedia.org/wiki/Roy_J._Plunkett)
Patent Information
Publication number: US2230654 A
Patent Title: Tetrafluoroethylene polymers
Publication type: Grant
Publication date: 4 Feb 1941
Filing date: 1 Jul 1939
Priority date: 1 Jul 1939
Inventors: Roy J Plunkett
Original Assignee: Kinetic Chemicals Inc