Event of the Day – September 28 is celebrated as National Good Neighbors Day in the United States.
Here is patent that discloses a refrigerator to be shared between neighbors. It has many advantages such as energy saving, environmental protection, and space saving.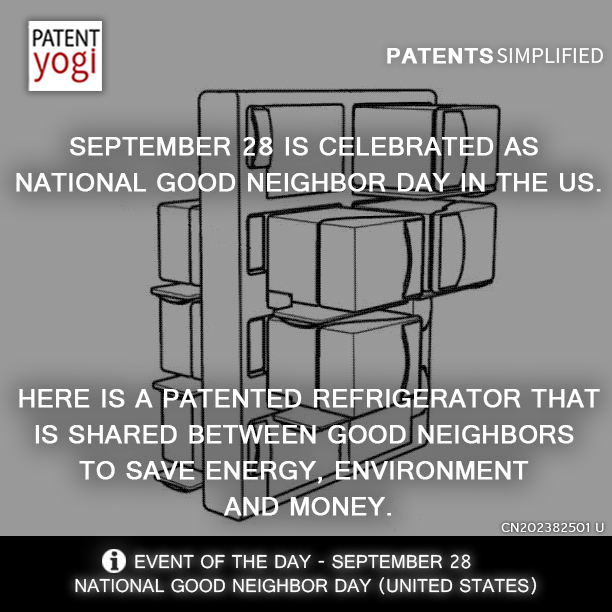 Patent Information
Patent Number: CN202382501 U
Patent Title: Share-type refrigerator
Application number: CN 201020507631
Publication date: Aug 15, 2012
Filing date: Aug 27, 2010
Priority date: Aug 27, 2010
Inventors: 刘雨辰, 张乐飞, 邱潇潇
Applicant: 浙江理工大学
Abstract: The utility model relates to a share-type refrigerator, which can be shared by neighbors and has advantages of energy saving, environmental protection, and space saving. The share-type refrigerator comprises a refrigeration terminating machine panel, in which are disposed a compressor, a radiator and other devices required by refrigeration. Two sides of the refrigeration are respectively provided with a plurality of cool air butt joint ports, which can be in a butt joint with small-sized storing boxes. The utility model is advantageous in that firstly, the neighbors can share the refrigerator, which is energy saving and environmental friendly; secondly, the space can be saved; thirdly, the structure is simple, and the production costs are low; fourthly, the appearance is beautiful and fashionable.