During long distance flights, the lavatories of airplanes get quite dirty and smelly.
A single aircraft typically flies to multiple destinations in a single day. These destinations include different airports, airstrips, or airfields in the same state, in different states, or in different countries. Any number of passengers and crew members may get on and off this single aircraft between flights. Further, the passengers and crew members onboard the aircraft during a single flight may be a diverse group coming from different backgrounds and environments. These conditions create the potential for the spread of pathogens onboard an aircraft.
Therefore, there is an increasing need for the disinfection or sterilization of enclosed areas and spaces on aircraft like lavatories.
Currently, the lavatories inside aircraft are cleaned manually. Typically, disinfectant sprays, aerosols, or other types of cleaning solutions are used to disinfect surfaces. The manual method is time-consuming, ineffective and it also has drawbacks like producing odors that may be undesirable to some people.
The patented method uses far-ultraviolet radiation to disinfect the lavatory. This process kills over 99 percent of the pathogens in about 30 seconds.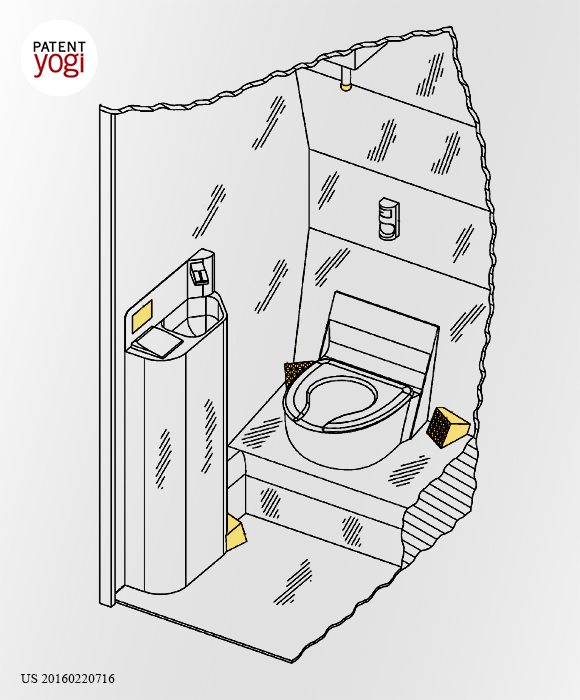 The method first determines whether the lavatory is unoccupied. Then it determines if the lavatory has been occupied a selected number of times since a previous disinfection of the lavatory. If the lavatory has been occupied the selected number of times since the previous disinfection of the lavatory, it then determines if a door to the lavatory is closed. If the door is closed, the disinfection is activated using far-ultraviolet radiation. The disinfection system is deactivated after completion of the disinfection process.
Patent Information
Publication number: US 20160220716
Patent Title: Lavatory Disinfection System
Publication date: 4 Aug 2016
Filing date: 30 Jan 2015
Inventors: James J. Childress; Mark L. Cloud; Karen Lee Hills;
Original Assignee: The Boeing Company