Boeing is one of the most innovative companies in the world.  Recently, Boeing patented the first solar powered plane that can fly forever.  They have technology to launch rockets from carrier aircraft.  Boeing also invented a unified lift vehicle that can lift any sized load.
Now, a patent application from Boeing has disclosed their plans to create additional space in the aircraft to store luggage, specifically the carry-on luggage.
The aircraft have space dedicated to different functions and optimizing the space is important. For example, space is dedicated to passengers in the passenger cabin in the form of passenger seats. Each seat on the aircraft adds to the ability for the airline to generate revenue for each flight. Therefore, it is desirable to maximize the number of passenger seats on an aircraft, taking into consideration passenger safety, comfort and the like. However, some space on the aircraft must be dedicated to other functions such as stowage of cargo, galley operation, lavatories, and the like.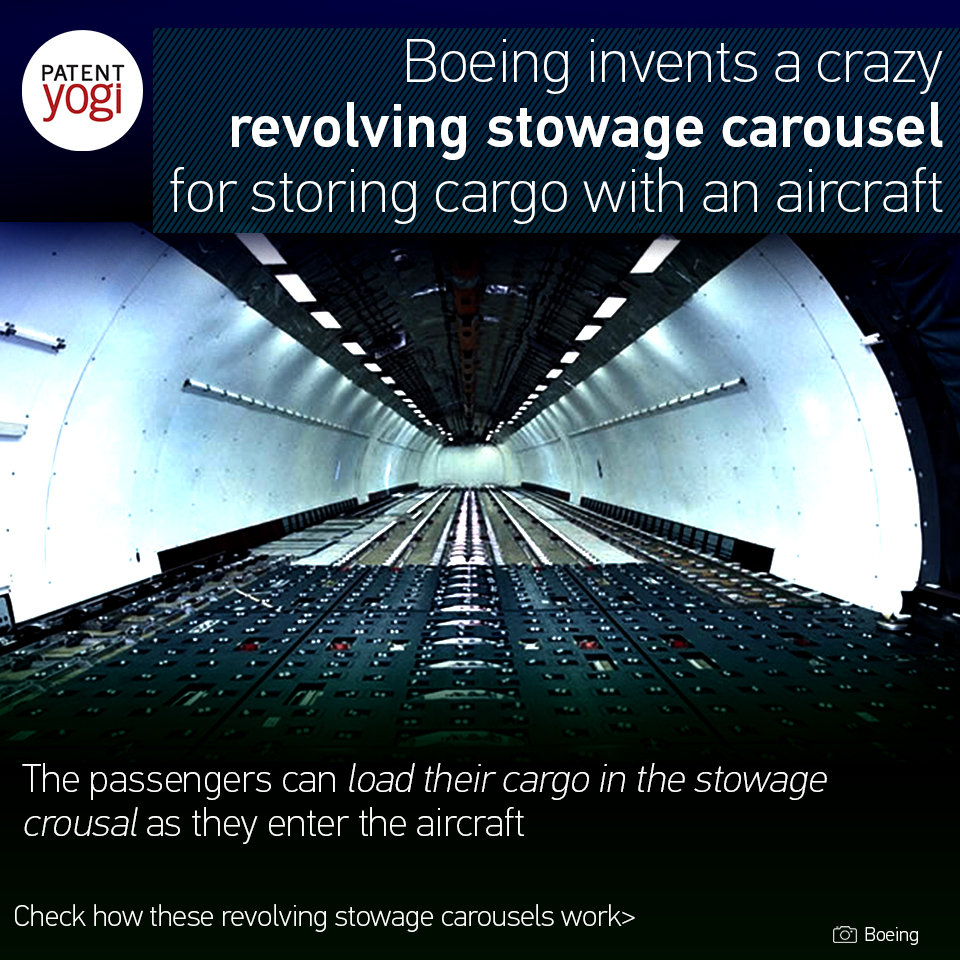 Presently, more and more passengers are carrying hand luggage into the passenger cabin in lieu of checking the luggage and having the luggage stowed in the lower lobe of the aircraft. The increase in the amount of carry-on luggage has put increased pressure on overhead stow bin capacities and volumes. Additionally, many aircraft have multiple, large galleys to store food and beverages on the aircraft.
Boeing has invented a stowage carousel for handling cargo aboard an aircraft.  The stowage carousel is placed along the fuselage of the aircraft. It includes a revolving conveyor having an inner ring facing a passenger cabin of the aircraft and an outer ring facing a fuselage of the aircraft.  The revolving conveyor includes multiple stowage compartments which are configured to receive the luggage.  The stowage compartments are rotatable within the aircraft with the revolving conveyor.
Passengers can access stowage carousel when they enter the aircraft. The passenger will have to enter passenger identification, such as by scanning her boarding pass at a scanner, to access the stowage carousel. The scanner can be a fingerprint scanner, a face recognition scanner, a voice recognition scanner or another type of scanner for passenger identification. Then, the passenger will open a door to load her carry-on luggage into a certain stowage compartment in the stowage carousel.  By entering passenger identification, a control system is able to link the luggage stored in a particular stowage compartment with a particular passenger. When the passenger needs to access his or her luggage (for example, while leaving the aircraft), the passenger will again enter the passenger identification on the scanner, and the control system will rotate the stowage carousel until the desired stowage compartment is accessible through the door. The passenger may then pull out her luggage.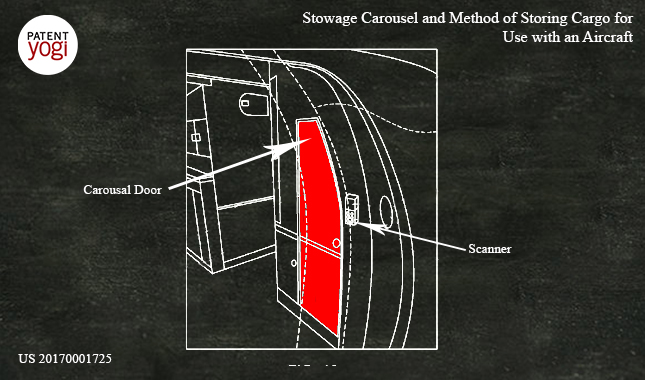 Further, the galley containers may be stored in the stowage carousel. This helps in reducing the size of the aft galley. For example, the size of the aft galley may be reduced by 50% or more.
Patent Information
Publication number: US 20170001725
Patent Title: Stowage Carousel and Method of Storing Cargo for Use with an Aircraft
Publication date: 5 Jan 2017
Filing date: 2 Jul 2015
Inventors: Darren C. McIntosh;
Original Assignee: THE BOEING COMPANY