Researchers at Massachusetts General Hospital have invented a contact lens that can be controlled through WiFi to deliver calculated quantities of drugs.
While Google's smart contact lens can sense glucose levels, this remotely controllable contact lens takes the next step of delivering a diabetic drug directly through the eyes.
But before that, a sensor embedded in the contact lens detects the level of a molecule such as glucose. The detected level is then transmitted by a wireless transmitter in the contact lens to an external computer. Viewing the level of glucose, a user may then realize the need to deliver a drug such as insulin. By interacting with the GUI of the computer, control signals are transmitted back to the contact lens to command delivery of the drug of a specific amount over a specific time period.
For delivering the drug, the contact lens includes a drug reservoir in the form of a coating on gold nanoparticles attached to a gold antenna. The remote control command received from outside is then used to stimulate these gold nanoparticles, thus detaching the drug molecules from the gold nanoparticles and releasing them into the eyes.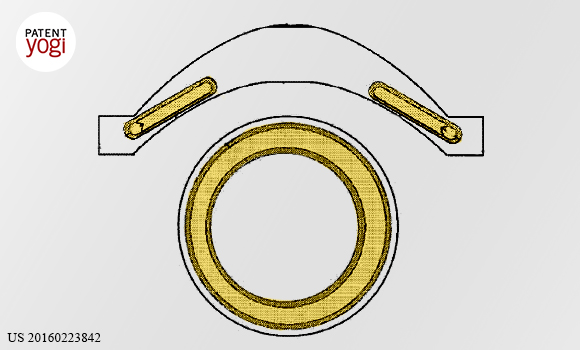 In addition, this contact lens also offers impressive functionalities like correcting defects in vision, automatically turning into sunglasses in bright light and being powered by solar energy.
Patent Information
Publication number: US 20160223842
Patent Title: REMOTELY CONTROLLABLE LENS DEVICE
Publication date: 4 Aug 2016
Filing date: 9 Sep 2014
Inventors: Seok-Hyun Yun; Ehsan Kamrani; Sei Kwang Hahn; Hyemin Kim; Dohee Keum; Keon Jae Lee; Choun-Ki Joo;
Original Assignee: THE GENERAL HOSPITAL CORPORATION DBA MASSACHUSETTS GENERAL HOSPITAL
POHANG UNIVERSITY OF SCIENCE AND TECHNOLOGY