Needle felting is a fibre arts craft that creates felt without the use of water.
Traditionally, artists use special needles as a sculpting tool to create felted works. The needle grabs the top layer of fibres and tangled them with the inner layers of fibres as the needle enters the wool. Once tangled and compressed using the needle, the felt can be strong and used for creating jewelry or sculpture.
The patented system is capable of additive manufacturing of 3D objects through felting. The system includes a composition head configured to deposit a manufacturing material comprising a strand of interlocked fibers onto a composition bed along a composition path. The composition path defines a path along which the composition head deposits the manufacturing material to form a predetermined three-dimensional object.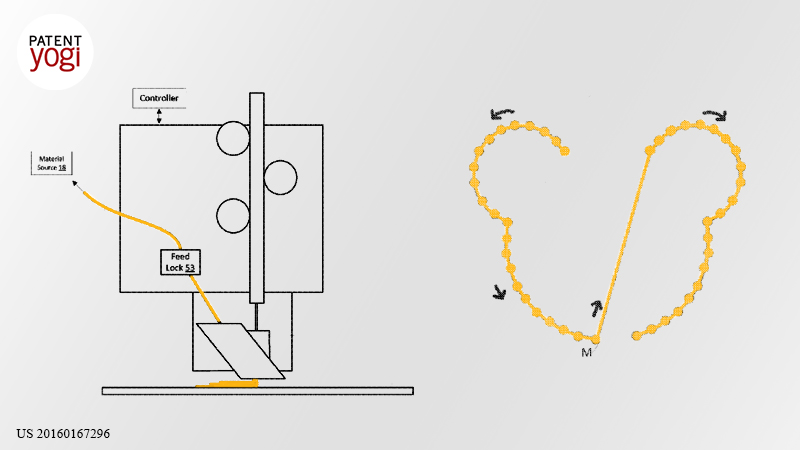 The composition head includes a reciprocating felting needle configured to draw the manufacturing material from a material source and deposit the manufacturing material on the composition bed, and a feed lock configured to control the feed of the manufacturing material from the material source to the composition head. The system also includes a controller for the composition head comprising one or more processors configured by computer-readable instructions to control the composition head to deposit the manufacturing material on the composition bed through felting.
Here is a needle felted Minion toy (available for sale on Etsy): 
For more needle felted works, check Etsy.
Patent Information
Publication number: US 20160167296
Patent Title: SYSTEMS AND METHODS FOR ADDITIVE MANUFACTURING OF THREE-DIMENSIONAL OBJECTS USING NEEDLE FELTING
Publication date: Jun 16, 2016
Filing date: Dec 11, 2014
Inventors: Scott HUDSON;
Original Assignee: Disney Enterprises, Inc.