YouTube has a unique feature of automatically selecting thumbnails for videos. The selected thumbnails are often the best frames of the video.
Most other video sharing sites like Vimeo lack this feature. This seemingly small feature is actually a very hard problem that Google has solved with a lot of ingenuity. 
The patent application discloses a thumbnail-selection utility that selects multiple candidate thumbnail images from the set of image frames. Then, a candidate-thumbnail-ranking calculator tests and ranks each selected candidate thumbnail relative to a target metric. A probabilistic-learning utility then determines the probability of selecting a candidate thumbnail as an optimum candidate thumbnail as a function of the ratio between the success ranking of the selected candidate thumbnail and a sum of the success rankings of all of the thumbnail images selected by the thumbnail-selection utility. Finally, a presenter displays the optimum candidate thumbnail to the viewer.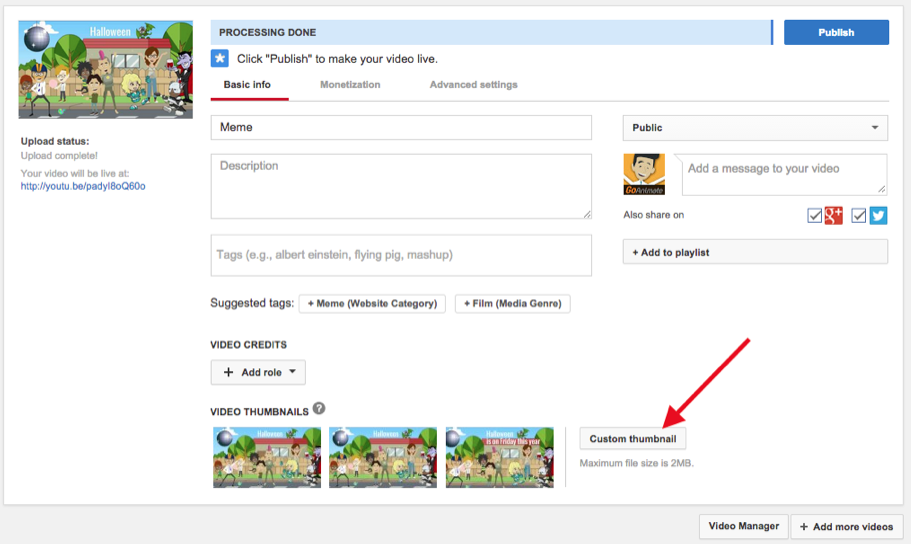 Patent Information
Publication number: US 20160170985
Patent Title: IDENTIFYING A THUMBNAIL IMAGE TO REPRESENT A VIDEO
Publication date: Jun 16, 2016
Filing date: Feb 12, 2016
Inventors: Justin Lewis; Henry Benjamin; Stanley Charles Ross Wolf;
Original Assignee: Google Inc.