People behave differently in the various online roles, from taking the role of a parent on Facebook to playing a role of a stamp collector on a stamp collecting forum. Some of the roles of the person and contexts of the online application may be incompatible with one another. For example, a civil servant may not want his posts regarding his celebrity-following activity to be known to his working colleagues.
This invention for Google is a persona management system within a user's single and unified online identity, including defining a plurality of personas for a single identity, the single identity comprising a plurality of personal attributes, associating each of the defined personas with at least one of the plurality of personal attributes, separating the plurality of personas associated with the single identity based on the at least one of the plurality of personal attributes, selecting one of the personas to use in an online interaction with an online application, and controlling access of the online application to the associated at least one of the personal attributes, based on whether the selected one of the plurality of personas corresponds to the online application.
The user can switch between personas of the online identity while interacting with an online application. The persona switching can be conducted manually by the user, semi-automatically with a prompt, or automatically based on the context of the online application, should the user decide to set the persona switching settings to automatic.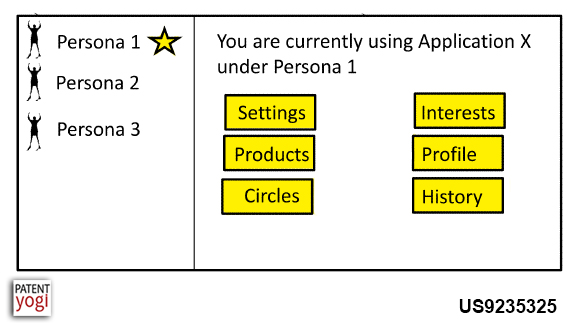 Patent Information
Publication number: US 9235325
Patent Title: Persona chooser
Publication type: Grant
Application number: US 13/653,895
Publication date: Jan 12, 2016
Filing date: Oct 17, 2012
Inventors: Andrew Swerdlow; Steve Anthony Rogers; Sebastian Schnorf Wildermuth; Larkin Brown; Martin Ortlieb;
Original Assignee: Google Inc.