Mitsubishi filed patent for a flapping type drone that imitates birds. It has advantages over convention drones, from the viewpoint of quietness, low visibility, and mimetic characteristics. For military applications, quietness is a crucial requirement. Recently, U.S. Military gave up on robots from Google because they were too loud.
The flapping type drone has characteristics of both the fixed wing type and the rotary wing type.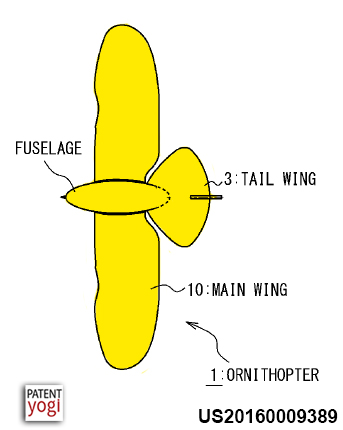 Patent Information
Publication number: US 20160009389
Patent Title: Ornithopter
Publication type: Grant
Application number: US 14/759321
Publication date: Jan 14, 2016
Filing date: Feb 19, 2014
Inventors: Satoshi KURODA; Tomoyuki MORI; Kazuya HATTORI; Masato TAHARA; Oki TAKAYAMA;
Original Assignee: Mitsubishi Heavy Industries Ltd.
4 US20160009389latest, IMAGE, Inforgraphic, patent, patented, PatentsSimplified, PatentYogi, system, Tech, technology, tranport, tube, TWIP, US20160009389, Mitsubishi