✓ In Brief
This may usher an era of smart clothing. Google has developed smart fabric that can endure multiple cycles of washing.
Generally, clothes are treated as a medium for covering bodies and for expressing one's fashion. Google wants to upgrade the clothes worn by us.
Google has developed and patented an interactive fabric that would make the clothes "smart". The smart clothes would be able to read gestures of users wearing them. Google has titled this project – Project Jacquard. In fact, some variants of Smart Jackets developed by Google may be purchased online.
Further, the users can customize and control their smart jacket with the Jacquard application. The application lets users control messages, phone calls, navigation, music4, and more.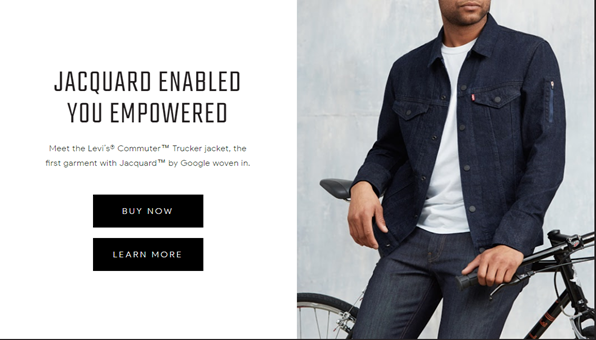 Further, the application allows users to assign and reassign different abilities to the gestures you want to use and decide when you want to be notified by LED and haptic feedback.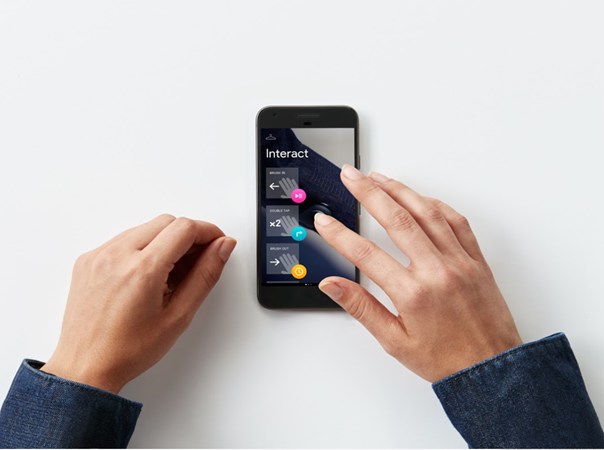 Future Developments
In near future, Google may develop a bunch of Smart Accessories like smart handbags, wallets, clothes etc., which can wirelessly charge our electronic devices like our phones. In another scenario, an interactive "Cap" may be developed that may read brain signals and accordingly detect health conditions, such as, for example, a headache. Further, the "Cap" may then give a soothing "Head massage" to the person wearing the "Cap".
Imagine an exemplary scenario where a person wants to dress up for a party. Accordingly, the person will open her closet to look for a party wear dress. Further, in the usual case, the person may have to manually select a party wear dress that she would wear for the party. With the smart clothes, the person may pre-decide the dress she wants to wear for the party and schedule the same on a calendar provided by the application. Accordingly, based upon accessing the calendar, the "Smart Clothes" in the closet may generate a feedback, such as, for example, the "Smart Clothes" associated with party wear clothes will illuminate in the closet. Here, the "Smart Clothes" may be equipped with a strip of LED lights.
Technical details
Now, since we have highlighted some applications of this invention, let us try to understand intrinsic technical particulars of the interactive fabric. The patent discloses a system that includes the interactive fabric (e.g. a conductive thread) configured to detect user interactions and the gestures like single or multiple touch input. Further, this interactive fabric may be integrated into a wearable interactive garment (e.g. a sweater) that may further be coupled (e.g. wired or wirelessly) to a gesture manager. The gesture manager may be a computing device that can be wirelessly and remotely coupled with the interactive garment. Generally, the gesture manager recognizes the user interactions, and in response, triggers various different types of functionality, such as answering a phone call, sending text message, creating a journal and so forth.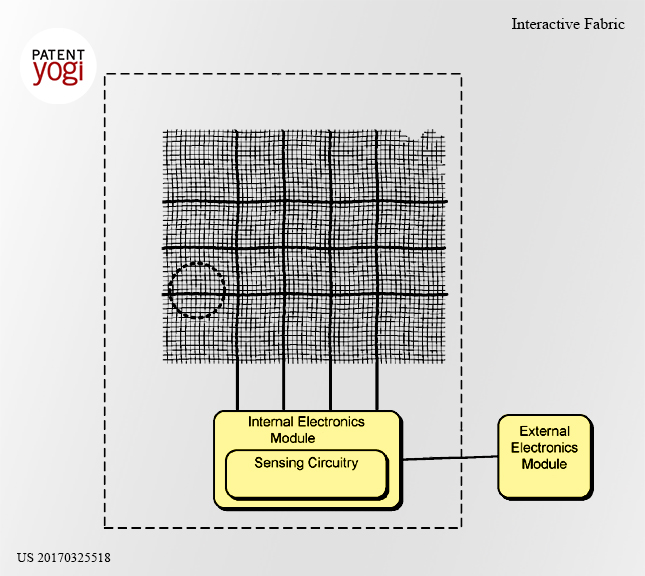 The interactive garment includes at least an internal electronics module containing a first subset of electronic components for the interactive garment, and an external electronics module containing a second subset of electronic components for the interactive garment. Further, the internal electronics module may be physically and permanently coupled to the interactive garment, whereas the external electronics module may be removably coupled to the interactive garment. Further, external electronics module contains critical electronic components such as battery. Such implementations may help in cases where the interactive garments are considered unpractical due to the durability issues since garments are often washed. Therefore, in order to prevent such scenarios, the interactive fabric invented by Google™ has an external electronic module which can first be separated from the garment prior to washing.
One of the limitations associated with the project Jacquard was that the interactive garments could not be washed more than 10 times. Further, if the interactive garments were washed more than 10 times, there was a possibility that the electronic circuitry might get damaged. With this new patented invention, Google has overcome the durability issue.

Patent Information
Publication Number: US20170325518 A1
Patent Title: Interactive Fabric
Application number: US 15/595,649
Publication date: Nov 16, 2017
Filing date: May 15, 2017
Inventors: Ivan Poupyrev, Carsten C. Schwesig, Mustafa Emre Karagozler, Hakim K. Raja, David Scott Allmon, Gerard George Pallipuram, Shiho Fukuhara, Nan-Wei GONG
Original Assignee: Google Inc.