Many companies want to use drones for distributing packages.
The ability to transport goods to consumers by drones offers great value, e.g., in terms of reducing traffic congestion associated with ground transport vehicles, as well as providing the ability to obtain access to areas in which delivery vehicles are limited (e.g., mountainous terrain, remote camping locations, crowded beaches, etc.).
However, the exact process required to deliver goods via drones is complicated. The drones need to be given navigation instructions before it takes off or remotely during flight. This process poses challenges in the practical world. A drone may get damaged during transit, so it may land prematurely. Now, another drone may be employed to finish the task. But the other drone will also have to be programmed again.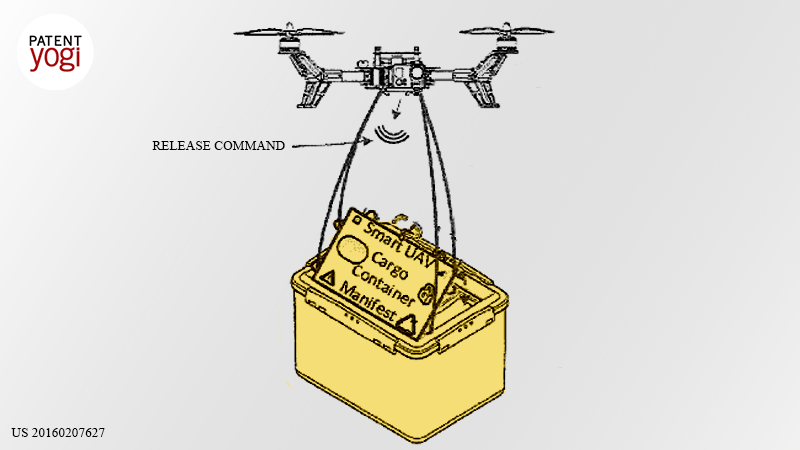 To solve such problems, IBM has invented a smart shipping containers that can guide drones to the destination. The smart container includes navigation information. During flight, it guides drones towards the destination. If the drone has to be changed; for example, due to a malfunction, then the second drone need not be programmed. It can receive navigation instructions from the smart container.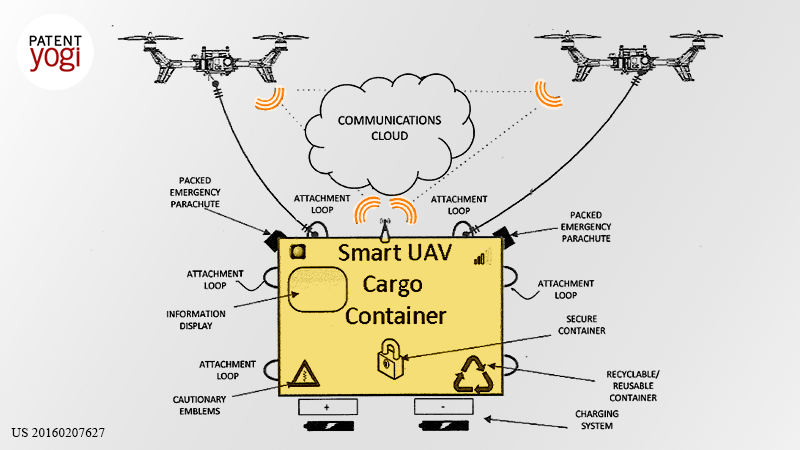 Once the coordinates of the smart container match coordinates of the delivery location specified in the routing information, the container sends a release request signal to the drone to release the container. The drone receives the release command and disengages the locking mechanism to release the smart container from the attachment base.
Patent Information
Publication number: US 20160207627
Patent Title: PACKAGE TRANSPORT CONTAINER AND TRANSPORT OPERATIONS FOR AN UNMANNED AERIAL VEHICLE
Publication date: 21 Jul 2016
Filing date: 16 Jan 2015
Inventors: Guillaume Hoareau; Johannes J. Liebenberg; John G. Musial; Todd R. Whitman;
Original Assignee: International Business Machines Corporation