Patrolling along fences is costly and also exposes personnel to being attacked.
Therefore, warning fences are used for detecting intrusions. They include an array of anchoring poles and sensors' poles that are deployed along the fences. These are also quite expensive. In addition, they are exposed to being damaged as a static system, for example by snipers, and remote neutralizing, requires existence of a line of sight along the various sectors, limited to specific observation angles and sensitive under certain non favorable weather conditions–rain, fog, dust).
The patented smart fence includes a rail track that extends at a height above the ground, alongside the fence and in parallel to it. It also includes a payload mounted on the rail track. The payload can automatically move along the length of the rail track.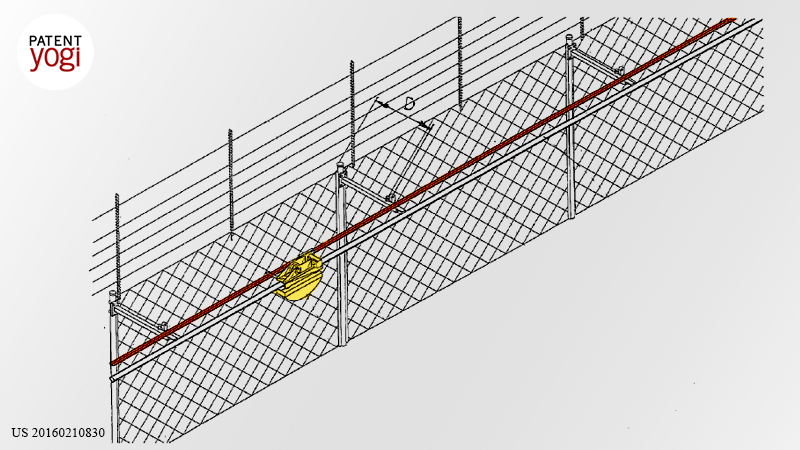 The payload includes sensors such as imaging sensors to obtain images, which are then automatically analyzed to detect indications of intrusion through the fence (for example – an image of a rip in the fence, an image of footprints in the brushed earth (dirt) track adjacent to the fence, or other threats (such as an image of a roadside bomb)).
The payload also includes microphones for listening, speakers for making announcements (public address systems), firing arms, non lethal weapons, lighting and electronic countermeasure means (e.g.–means for blocking remotely sent signals for detonating a roadside bomb).
The smart fence provides a robust solution to deal with intrusions.
In the US presidential race, Donald Trump has made claims about making a concrete wall all along the US-Mexico border. This proposal has come under attack due to its high cost and non-effectiveness.
Trump's wall may actually be a smart fence like the one disclosed in this patent.
Patent Information
Publication number: US 20160210830
Patent Title: SELF-PROPELLED SECURITY SYSTEM ON AN ADJACENT TO A FENCE TRACK
Publication date: 21 Jul 2016
Filing date: 4 May 2015
Inventors: Avi Shaham; Yehonatan Ben-Hamozeg; Avraham Saar;
Original Assignee: MAGAL SECURITY SYSTEMS LTD.