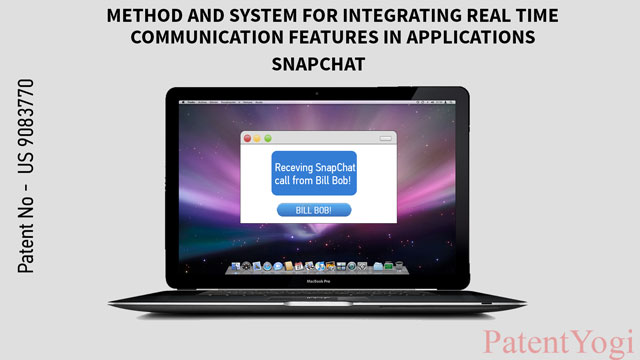 Patent No – US 9,083,770
Patent Title: Method and system for integrating real time communication features in applications
Inventors: Drose; Michael (Hohenstein, DE), Kozak; Tadeusz (Victoria, AU), Seggie; Kavan Antony (London, GB), Sobinov; Dmitry (Berlin, DE)
Assignee: Snapchat, Inc. (Venice, CA)
Family ID: 1000000810810
Appl. No.: 14/536,532
Filed: November 7, 2014
Abstract: A computer has a processor and a memory connected to the processor. The memory stores instructions executed by the processor to receive a real time communication request from a client device and perform an evaluation of the number of client devices associated with the real time communication request. The evaluation results in the coordination of peer-to-peer communications in the event of two client devices and an attempt to host a real time communication session using a first protocol in the event of three or more client devices. A second protocol for the real time communication session is invoked in the event that the attempt to host the real time communication session using the first protocol is unsuccessful.