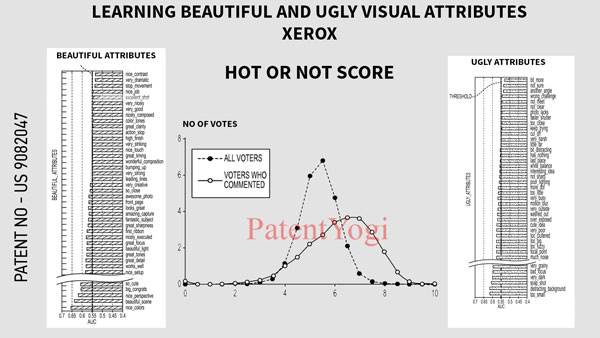 Patent No – US 9,082,047
Patent Title: Learning beautiful and ugly visual attributes
Inventors:Marchesotti; Luca (Grenoble, FR)
Assignee: XEROX CORPORATION (Norwalk, CT)
Family ID: 1000001213701
Appl. No.: 13/971,092
Filed: August 20, 2013
Abstract:
A method for learning visual attribute labels for images includes, from textual comments associated with a corpus of images, identifying a set of candidate textual labels that are predictive of aesthetic scores associated with images in the corpus. The candidate labels in the set are clustered into a plurality of visual attribute clusters based on similarity and each of the clusters assigned a visual attribute label. For each of the visual attribute labels, a classifier is trained using visual representations of images in the corpus and respective visual attribute labels. The visual attribute labels are evaluated, based on performance of the trained classifier. A subset of the visual attribute labels is retained, based on the evaluation. The visual attribute labels can be used in processes such as image retrieval, image labeling, and the like.