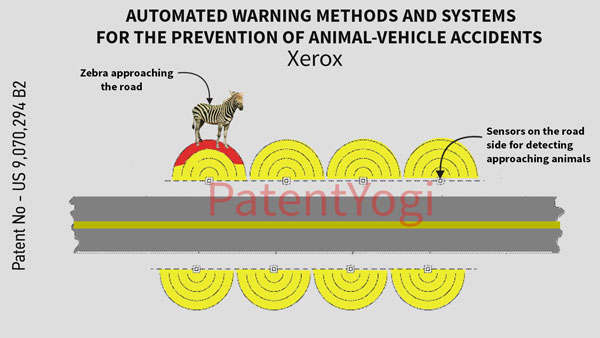 Patent NO: 9,070,294
Patent Tittle: Automated warning methods and systems for the prevention of animal-vehicle accidents
Inventors: Wyble; Thomas J. (Williamson, NY), Moore; Steven R. (Pittsford, NY)
Assignee: Xerox Corporation (Norwalk, CT)
Family ID: 1000001187249
Appl. No.: 13/895,962
Filed: May 16, 2013
Abstract: Methods and systems for preventing collisions between vehicles and moving hazards include the use of active signs, a network of sensors, and a controller. Such sensors can be placed adjacent to a roadway and are used to detect the presence of animals. The active signs display a local speed limit. The controller accepts the sensor signals as input and outputs display commands to the active signs. The controller maintains a rolling window of recent detections in histogram form. The recent data, together with a control law specified by the municipal authority, can be used to specify updated local speed limits to influence driver behavior.