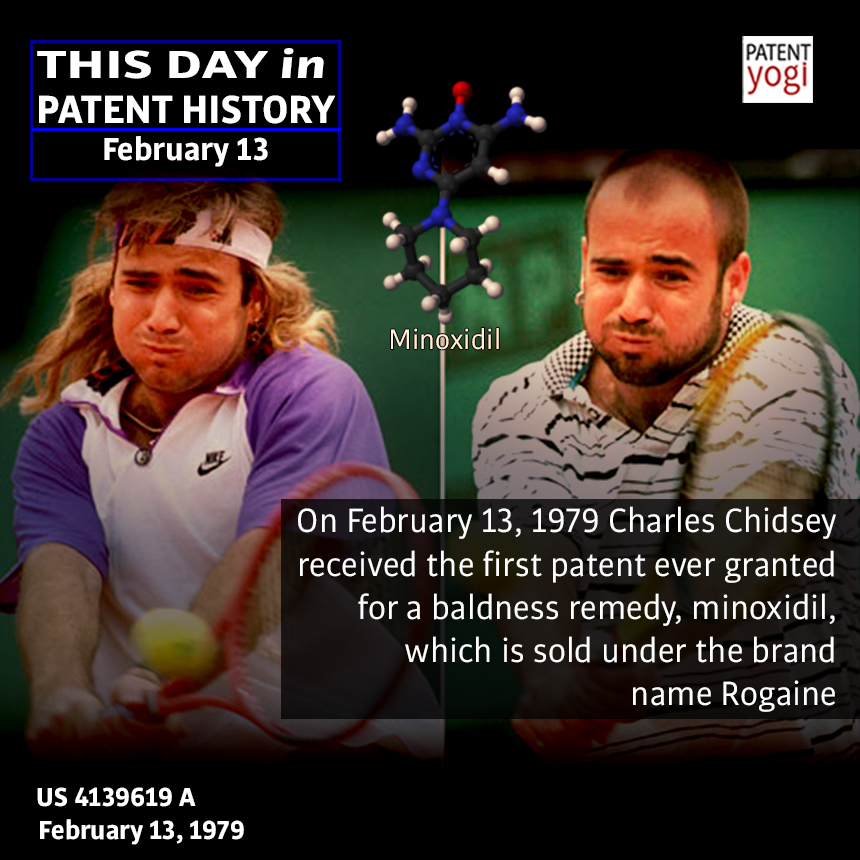 On February 13, 1979 Charles Chidsey received the first patent ever granted for a baldness remedy, minoxidil, which is sold under the brand name Rogaine.
The patent became a focus of a long legal battle.
The patent was assigned to Upjohn Company, today a unit of Pfizer. In 1950s, the company was working with a compound on a new ulcer treatment. However, the compound did not help ulcers. Upjohn synthesized many variations of the compound, including the most famous one known as minoxidil.
This variation seems to lower the lower blood pressure, so they hired Charles A. Chidsey, to study minoxidil as a cure for hypertension at the University of Colorado's medical school in Denver, where he was a professor.
During trials, Dr. Chidsey observed hair growth on patients who had taken the drug for hypertension. He then reached out for advice from a colleague at the school – Dr. Kahn. Dr. Kahn began experimentation with the compound along with a medical assistant Dr. Grant. They also found that when they administered minoxidil to people, hair sprouted on their bodies.
On Dec. 10, 1971, Dr. Kahn and Dr. Grant went to Upjohn's headquarters to share the happy news with them that the drug was a potential "gold mine". They also demanded a 2-4% stake in the sale of all Upjohn products that included a topical minoxidil. However, the executives did not directly answer them. On Dec. 29, Upjohn, filed a formal patent application for minoxidil as a hair-growing drug, naming Dr. Chidsey as the sole inventor, as he was the first to report the growth of hair in conjunction with the drug.
Dr. Kahn and Dr. Grant discovered the patent application the next year. They disputed the patent, which when to interference proceedings at USPTO. However, a financial settlement was reached, with Dr. Chidsey, Dr. Kahn and Dr. Grant all receiving substantial royalties.
Thereafter, in 1986, the patent office added Dr. Kahn's name to Dr. Chidsey's in the patent.
Upjohn developed the product Rogaine for the market launch, which the F.D.A. approved in 1988. The patent expired in 1996, allowing the product to be sold over the counter under other brand names.
In 1989, the Intellectual Property Owners Foundation named Dr. Kahn and Dr. Chidsey "distinguished inventors."
Source: NYT (http://www.nytimes.com/2014/09/20/business/guinter-kahn-inventor-of-baldness-remedy-dies-at-80.html)
Patent Information
Publication number: US4139619 A
Publication type: Grant
Application number: US 05/826,180
Publication date: 13 Feb 1979
Filing date: 19 Aug 1977
Priority date: 24 May 1976
Inventors: Charles A. Chidsey, III
Original Assignee: The Upjohn Company