Climate models generate data that are of great value to society. Climate model outputs include retrospective analyses that model the historical state of the climate, estimates of current climate conditions, and projections of future climate conditions.
Offering climate data analytics as a service makes it easier to access climate model data and perform data analyses where the data are stored. The capabilities of a climate data analytics service can be made available to client devices through an application programming interface.
Currently, however, the ability of end users, applications, climate researchers, or members of the public to gain meaningful access to climate data analytic services is limited. The current technologies are deficient because there exists no effective means for gaining access to the libraries, utilities, and documentation that include an application programming interface. There is a need to make it easier access the capabilities of a climate data analytic services application programming interface.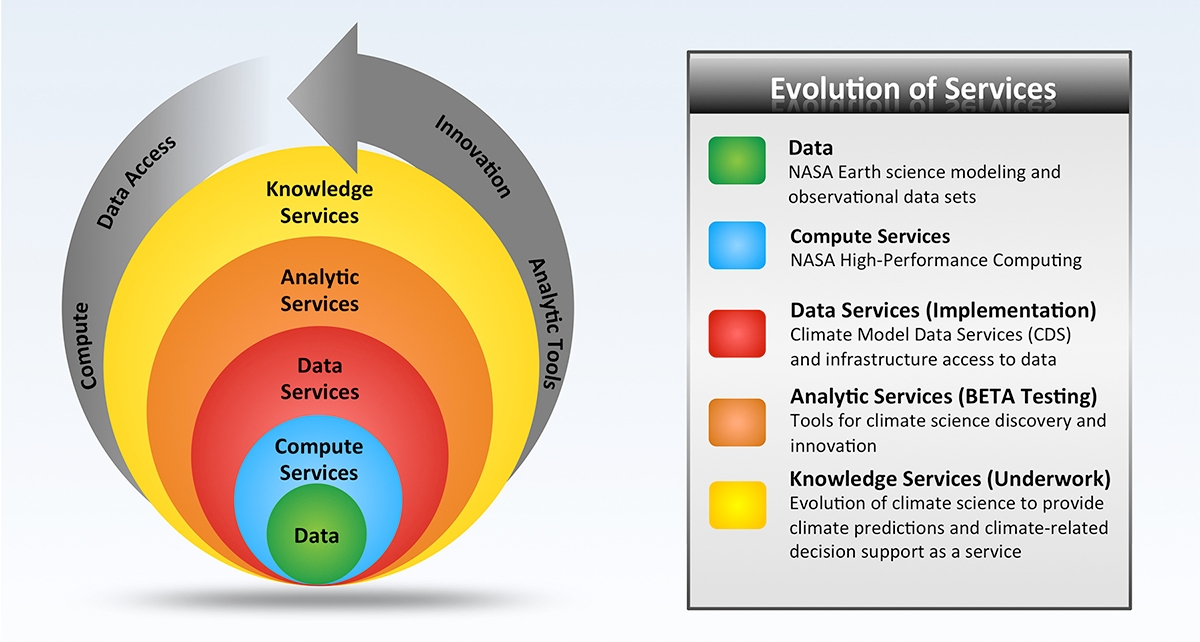 NASA has patented a system to deliver a climate data analytic services application programming interface to the end users. The climate data analytic services (CDS) application programming interface (API) distribution package provides a system through which users can acquire the tools necessary to install and use the CDS API on a client device. The system includes a command-line interface that provides a means of interacting with a climate data analytic service by issuing commands directly to the system's server interface. The system also includes test utilities that evaluate the robustness and performance of an installed client-side application programming interface environment, and build utilities that install the application programming interface library and create the client-side run-time environment required by the library.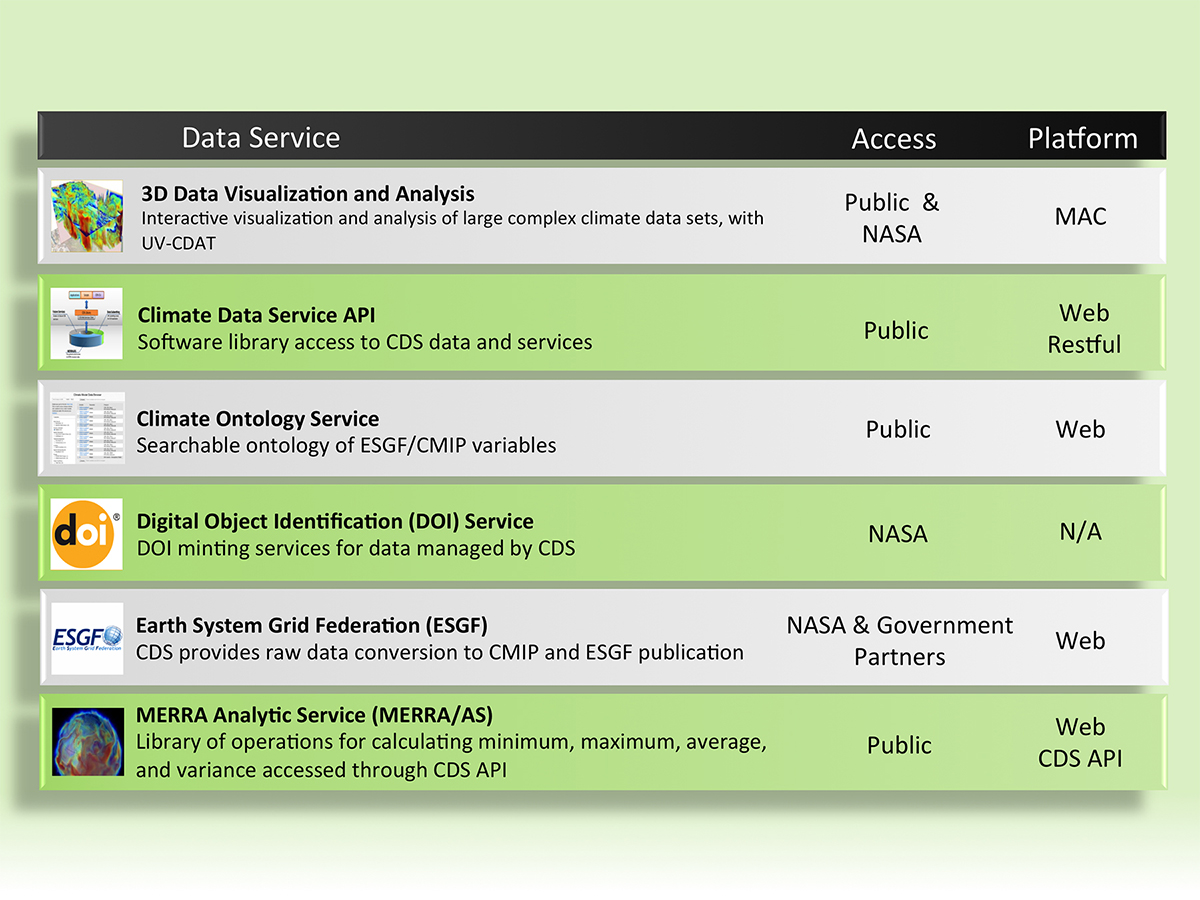 NASA's Climate Data Services (CDS) provides tools and services to visualize, analyze, compare, and publish climate model data, specifically data produced generated at the NASA Center for Climate Simulation (NCCS). CDS is further addressing the problem of searching, analyzing, and visualizing big data. It aims to give diverse users intuitive interfaces to a complete collection of NASA model data sets. By broadening access to model data, NASA envisions advances in scientific research as well as new applications benefiting society.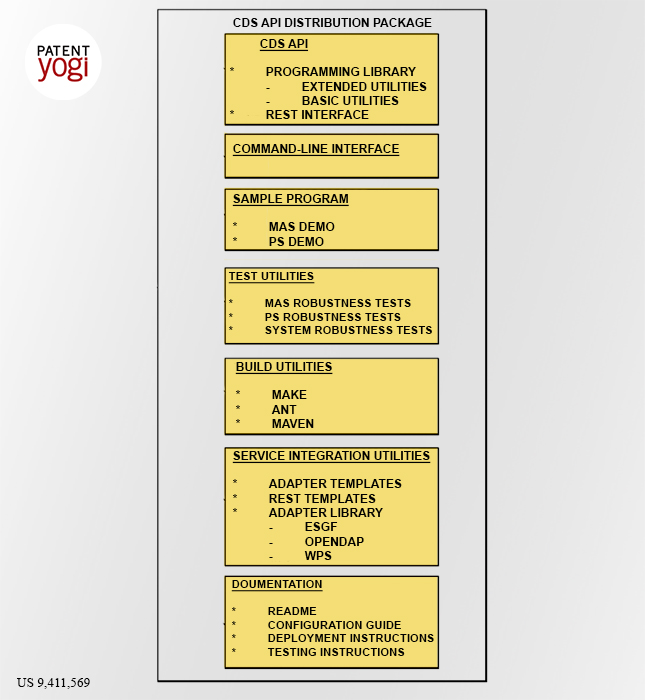 Researchers, news organization and public in general may use this service to research and find solutions to problems like Global Warming.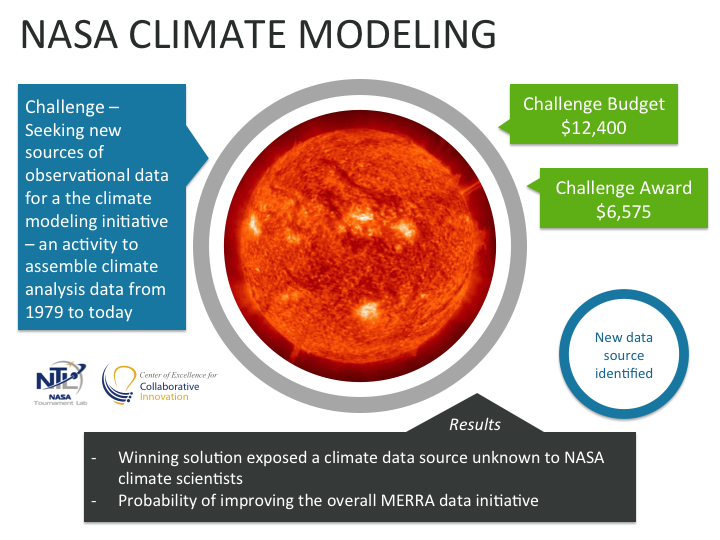 Sources: NASA 
Publication number: US 9,411,569
Patent Title: System and method for providing a climate data analytic services application programming interface distribution package
Publication date: 9 Aug 2016
Filing date: 12 May 2015
Inventors: John L. Schnase; Daniel Q. Duffy; Glenn S. Tamkin;
Original Assignee: The United States of America represented by the Administrator of the National Aeronautics and Space Administration