US20150362756
PatentYogi Summary
This invention relates to how the smart lens is capable of detecting a user's gaze using photo-detectors.
A pair of photo-diodes are disposed over the outer surface of the contact lens as shown in the figure. Further, each photo-diode is coupled to a detector circuit which generates a signal based on light incident on it.
A key feature of the invention is that one of the photo-diode is designed to provide a light response profile that is more linear than that of the other photo-diode.
The first photo-diode is located closer to the central portion of the lens and is more likely be covered at different times by an eyelid of a user. The second photo-diode is located such that it is exposed to ambient light most of the time.
When the cornea of the user moves, an eyelid overlap of the first photo-diode causes a signal to be generated. Different values and frequencies of this signal are associated with different gazing directions and/or focal distances.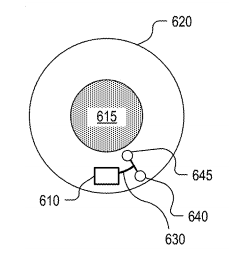 Patent Information
Publication number: US20150362756
Patent Title: Apparatus, System And Method For Gaze Tracking Based On Photodetection By An Eye-Mountable Device
Publication type: Grant
Publication date: 17 Dec 2015
Filing date: 11 Jun 2015
Inventors: Robert Francis Wiser; Jennifer Han; Brian Otis; Nathan Pletcher;
Original Assignee: Google Inc.